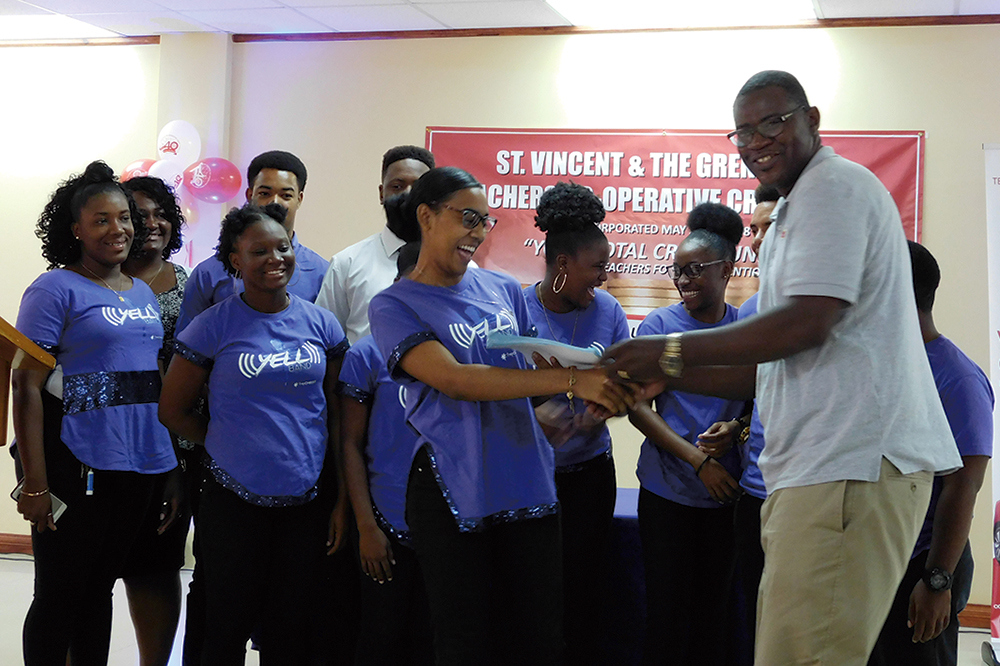 'YELL' wins contract to record jingle for TCCU
Youths Everywhere Living for the Lord (YELL) has won the recording contract for a jingle for the Teachers Co-operative Credit Union (TCCU).
The winner was announced last Thursday, May 24, at the awards and prize giving ceremony for the National Schools Bands Showcase, which was held on March 24 at the decommissioned E.T Joshua Airport. The TCCU was the major sponsor.
The awards for most disciplined school went to the National Lotteries Authority Intermediate High School. Joffre Venner received an award for his lifetime dedication to teaching music.
Co-ordinator for the school bands showcase, Rodney Small, said the event was a success and that patrons enjoyed the three-hour show.
"We saw 144 talented musicians gracing the stage with excitement on their faces at the E.T Joshua tarmac, along with a guest appearance performance from the band Resonance, from the Community College," Small said.
The co-ordinator said there were over 2,000 persons in attendance despite a competing event that night. He thanked all the patrons for their support.
Small reminded that the objectives were to showcase the talents of the youths while providing quality entertainment in an engaging ambience and to have a modern approach to music education in schools.
Other objectives were to develop more bands in the country and create the National School Band and to create employment for full time entertainers among others.
"We can safely say, more than 50 per cent of these objectives are now realities. Coming right after the school bands showcase we saw some of the school bands making appearances at different events…," Small said.
He asked potential sponsors to join in supporting the school bands showcase which he said they would not regret.
In August 2018 a mentorship program, a two-day music boot camp and the formation of the national youth band will be held.
The 11 school bands which participated in the showcase were: Flow Thomas Saunders Secondary; Tus-T Water YELL; NIS Emmanuel High School Mesopotamia; Posse Snacks West St George Secondary; RJR Sandy Bay Secondary; Arabesque Shipping Inc North Union Secondary; National Lotteries Authority Intermediate High School; Sunset Shores Bishop's College Kingstown; Vitamalt Bethel High School and the BOSVG St Vincent Boys Grammar School and a guest appearance from Resonance.
"Changing Hobbies into Careers" was the slogan of the co-ordinating committee.