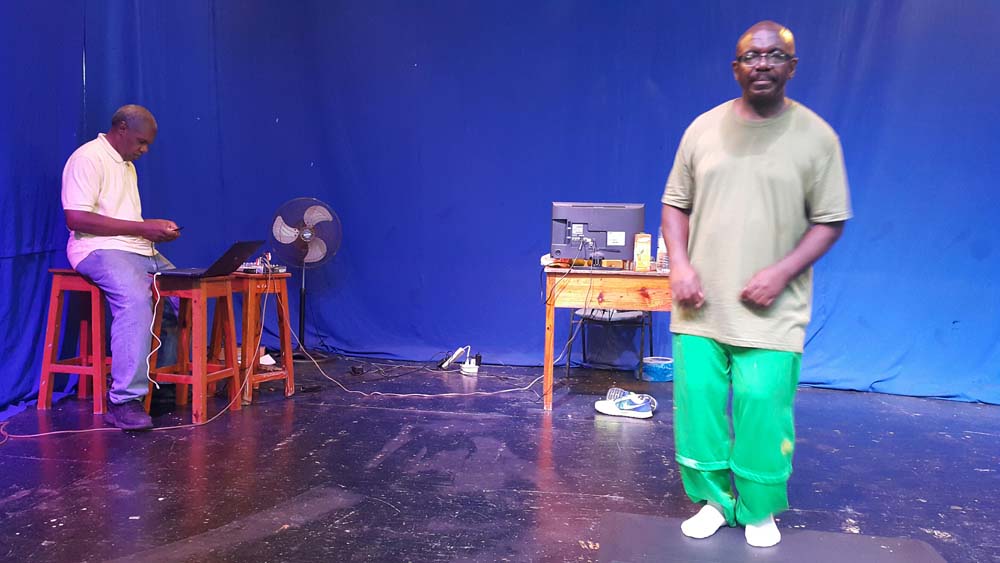 Ole George aborts Guinness world record attempt after fall
Earl 'Ole George' Daniel, who had been attempting to dance his way into the Guinness Book of World Records, has brought his dance to an end.
After 81 hours of continuous dancing, the effort was aborted at 6 am on Monday, Daniel's brother Kenrol Daniel, told SEARCHLIGHT.
Kenrol said that although Earl wanted to continue, he (Kenrol) made the decision to pull the plug 43 hours short of the record, because of an injury to his brother's knee, which was sustained on Sunday morning when 'Ole George' fell off the stage at the Peace Memorial Hall where he had been dancing since 9 pm on Thursday, May 31.
Kenrol said he was worried about how swollen his brother's knee was.
In an interview on Sunday afternoon, 'Ole George' told SEARCHLIGHT that when he fell earlier that day, he also hit the right side of his head.
The 54-year-old said he fell because he misjudged where the edge of the stage was and slipped and fell. He said he remained on the floor for only about five seconds and a doctor had been expected to visit later on Sunday to check him out.
When SEARCHLIGHT visited at 2 pm on Sunday, 'Ole George' was just beginning his 66th hour of dancing.
At the time of our visit, he had just completed a bathroom break and seemed remarkably collected for someone who had not slept for almost three days. According to the rules, he is allowed five minutes rest for each hour he dances, but Daniel has been dancing for several hours straight, to accumulate the time for longer breaks.
He told SEARCHLIGHT he was not sleepy and felt well.
Sister Arlitha Scott, a registered nurse checked his vital signs in SEARCHLIGHT's presence and reported that Daniel's pressure was 120/90 mm Hg, down from a reading on Saturday of 149/100; his sugar reading was 118 mg/dL.
Daniel's quest to dance for seven days or 168 hours was monitored by timekeepers — his brother Kenrol and Sydney 'Pumpkin' Joseph, as well as three video cameras with time stamps mounted on the stage to keep a record of his activities.
According to Daniel, to bring officials from the Guinness Book of World Records to SVG to monitor his dance would have cost US$10,000 a day, in addition to airfare and accommodation. He said the more affordable option was to use cameras and local time keepers and to perform the dance in a public place and for the media to report on the activity.
Daniel, who is a social worker by profession, told SEARCHLIGHT that he hoped, through his effort to change the hearts of people one by one, and to bring awareness to crime and diabetes, as statistics in SVG in these areas point to serious problems, in his opinion.
This is only his latest effort to make it into the Guinness Book of World Records.
Daniel shot to national attention in 1998 when he walked around mainland St Vincent. He said that back then, he walked for one day, but he was curious as to how long he could walk for, so he did it for two days, then three days.
He later found out that the Guinness Book of World Records record for the longest walk was held by a man in England, who in 2005, walked for six days, 23 mins. He then went to Jamaica in 2006, where he walked for seven days around Emancipation Park. Then again in 2007, he walked for seven days, one hour and in 2008 walked for eight days in Brooklyn's Prospect Park. Also, in 2008, Daniel walked from Montreal to New York.
He has also walked around Barbados, Grenada, St Lucia, all the Grenadine islands and has walked around SVG a total nine times.
Unable to get into the Guinness Book of World Records for his walking, Daniel switched to dancing in 2012. His first long distance dance attempt was done in Nunavik (northern third of the province of Quebec).
The record for the longest continuous dance according to the Guinness Book of World Records is 123 hours. Daniel had been attempting to dance for 168 hours.