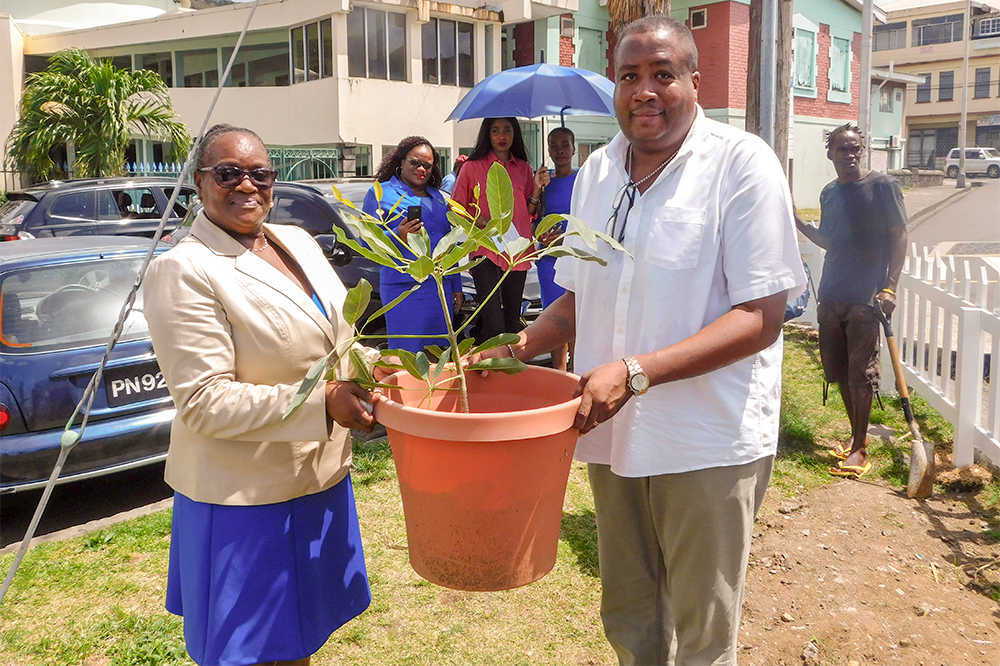 KCCU plants Silver Trumpet tree at entrance of MCMH
The commemoration of Kingstown Co-operative Credit Union's (KCCU) 60th anniversary continues, with the most recent activity being a tree planting ceremony.
Representatives from KCCU partnered with the St Vincent and the Grenadines National Trust yesterday, to plant a silver trumpet tree at the entrance of the Milton Cato Memorial Hospital in Kingstown.
Cynthia Hope-Browne, president of the KCCU, said that trees can play an essential role in mitigating the impacts of climate change.
And she is hopeful that the tree will "continue to grow and provide shade and oxygen, reduce noise pollution and provide health and relaxation as well as an improved quality of life for both patients and visitors."
"May this gesture be a reminder of our dependence upon and the benefits derived from a healthy natural environment," Hope-Browne said. "May it also serve as a reminder of KCCU's commitment to a sustainable future and an inspiration to protect the environment."
Osei Morris, vice chairperson of the St Vincent and the Grenadines National Trust made reference to the tree's location and said that people should take time to enjoy the view in the hustle and bustle of Kingstown.
Morris also committed to taking care of the tree once it is planted.
The silver trumpet tree was a donation from the St Vincent and the Grenadines Preservation Fund, which is headed by Louise Mitchell.