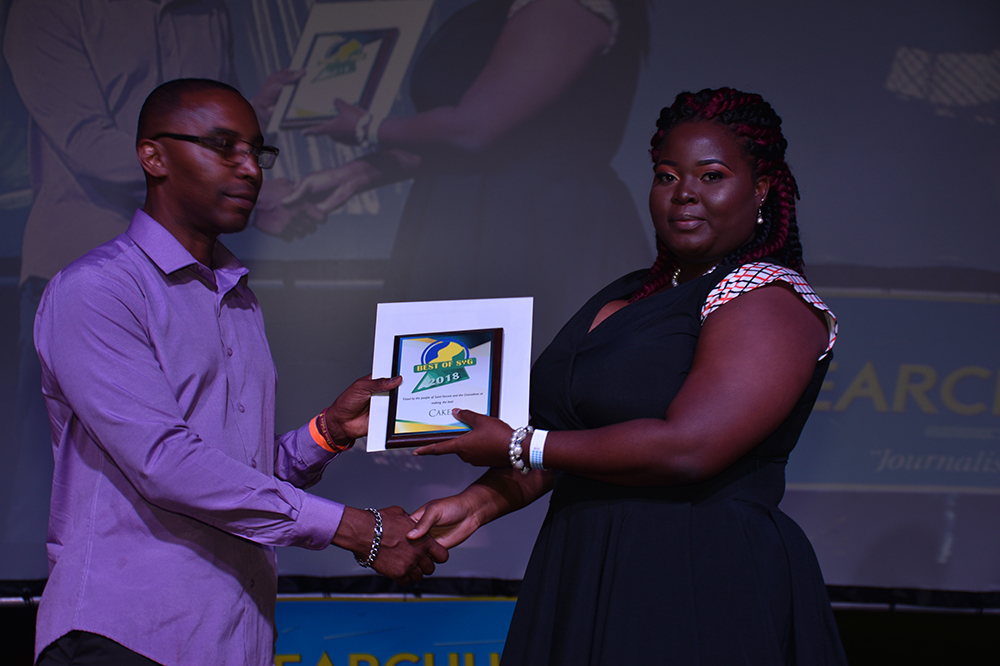 Winners named in 2018 Best of SVG Campaign
The winners in 102 categories in the 2018 Best of SVG people's choice awards were announced last Sunday evening at a grand event attended by a wide cross section of the Vincentian public.
Among those receiving awards were the winners in 14 new (or amended) categories that were added to the ballot sheet this year.
The new categories were: farine, cocoa/chocolate tea, hair braider, nail technician, butcher, cakes, chips, roti, house designer, videographer, nurse, dance group, drama / theatre arts group, and vlogger.
Clare Keizer, the chief executive officer of Interactive Media Limited (IML) hosts of the event said this year, there were 10 times more nominations overall than last year and most of the new categories were enthusiastically received by the public. She said the categories in which voting was heaviest were those associated with food and beauty. Giving examples, Keizer said in the category "Who makes the best cakes", 180 people or businesses were nominated and in the Best Hair Braider category, over 160 hair braiders were nominated by the public.
The business receiving the most nominations from the Vincentian public was Frisko, with 1,072 nominations for 'Who makes the best ice cream', followed closely by Rick Nick's Cafe, which received 1,067 nominations for 'Who makes the best roast pork'.
The Bamboo Spa won the most awards, winning in three categories – Best Manicures, Best Pedicures and Best Massages.
Eight other businesses / persons — Auldine Browne (best hair stylist, best make up artiste); Mich & Cato Sweet Spot (food truck, fish & chips); Stop Light Restaurant (pelau, roti); Rick Nick's Café (barbecue, roast pork); Bowman's (pepper sauce and green seasoning); Lornette Joseph (souse and boul joul); Tevin Baynes (best bartender, best waiter); and Huffles Ranch (best night club, best karaoke venue), won in two categories.
Last Sunday's event, which had as co-masters of ceremony Dexter Rose and Candice Sealey, also saw guest performances from Rodney Small, Cantemus, Maurice Horne, Shaunelle McKenzie, Nickisha Pierre and the Arabesque Dance Company.
Keizer, making remarks at Sunday's ceremony said the Best of SVG campaign is still a work in progress and called on the public to make suggestions as to how the campaign could be improved.
"We envisage that for as long as it exists, we will continue to tweak it as we go along. Each year, we will review categories for which there was very little response from the public and consider retiring them and replacing them with categories you ask for. So let us know your thoughts."
An added feature of the ceremony this year was the presentation of special prizes to the persons/businesses who received the most nominations in each of the major groupings. All 102 winners received plaques, certificates, stickers and discount vouchers.
The Best of SVG campaign was launched on January 5, 2018 and voters were given from then, until March 2, to submit their nominations.
The sponsors of the campaign and awards ceremony were: Grant Thornton, Boom 106.9, Right Stuff, WE FM, Centre for Enterprise Development (CED), Guardsman, QuickCash Corp., Digicel
NBC Radio, Courts St. Vincent Limited, Joche Moments, St Vincent & the Grenadines Community College, Sports Locka Plus, ITFX, Vitamalt, Finishing & Furnishing, St Vincent & the Grenadines Coalition of Services Industries, St Vincent & the Grenadines Chamber of Industry and CommerceCIBC-FCIB, Fine Things, CD Veira Ltd (Singer), Green Peaks, Bullocks Trucking Ignite!, Island Wide Fitness, Bamboo Spa Resort, Jazzy's All Natural, Collin Cunningham, Ras John and Searchlight.