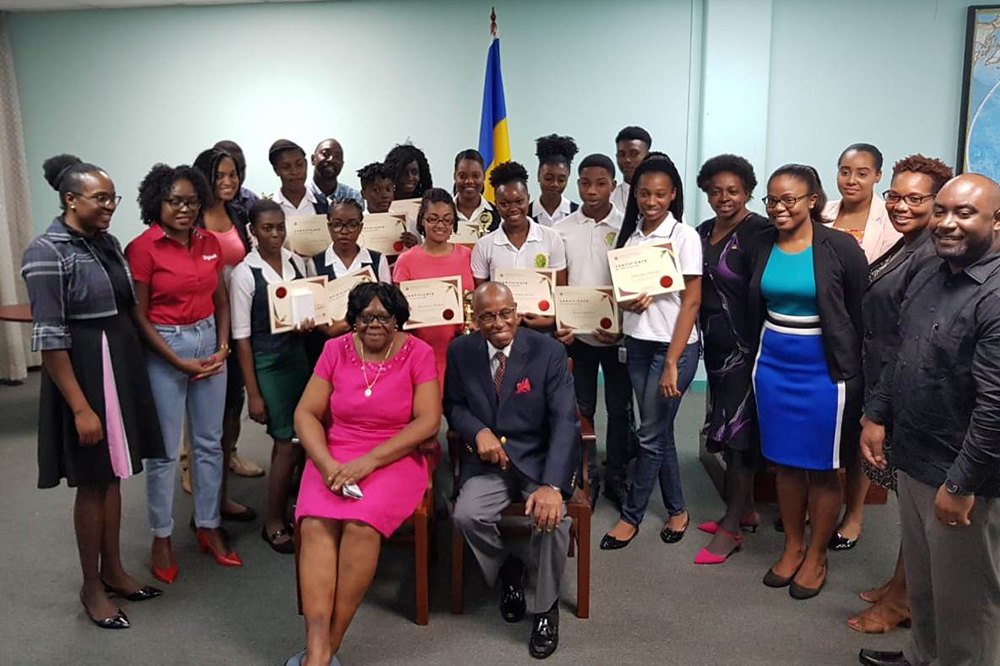 Digicel pledges continued support to foreign affairs' essay writing competition
For the third consecutive year, communications and entertainment provider Digicel, has contributed to the successful hosting of the Ministry of Foreign Affairs, Trade & Commerce's essay writing competition – an exercise geared at stimulating discourse on a number of developmental issues in St. Vincent and the Grenadines (SVG).
The competition saw participants writing on the topics: 1. In what ways can the new Argyle International Airport facilitate increase foreign investments and aid in diversifying our trade portfolio? And, 2. As of January 2017, SVG began a three-year term on the United National Economic and Social Council, additionally, SVG is bidding for a seat on the UN Security Council as a non-permanent member. How is it beneficial for a small country like SVG to serve on these international committees?
Speaking at the competition's closing ceremony on Friday, May 25, Sandy Peter-Phillips, Permanent Secretary in the Ministry said this year's competition saw an increase in interest and entries when compared to previous years. Peters-Phillips extended much thanks to Digicel for partnering with her Ministry on such an important venture, which directs secondary and tertiary level students along with young professionals, to do intensive reading and research on matters of great national importance.
Jamisha Wright, Digicel's Marketing Executive, commended all the participants for their contribution and challenged the Ministry of Foreign Affairs, Trade & Commerce to not simply host the essay writing competition year after year, but to continue to seek out topics for discourse that can positively impact leaders' decision-making and lead to the further development of SVG.
The top positions in the competition were secured by Lynallia Isaacs in Group 1 and Shineco Sutherland in Group 2, who both received Samsung Galaxy handsets, compliments of Digicel, along with prizes from other sponsors. The second place in the Group 1 category went to Rayon James, who also received a Samsung smartphone and other tokens.
The closing ceremony also featured remarks by Minister of Foreign Affairs, Trade & Commerce Sir Louis Straker, Deputy Director of Foreign Policy Doris Charles and Senior Foreign Service Officer Tamira Browne.