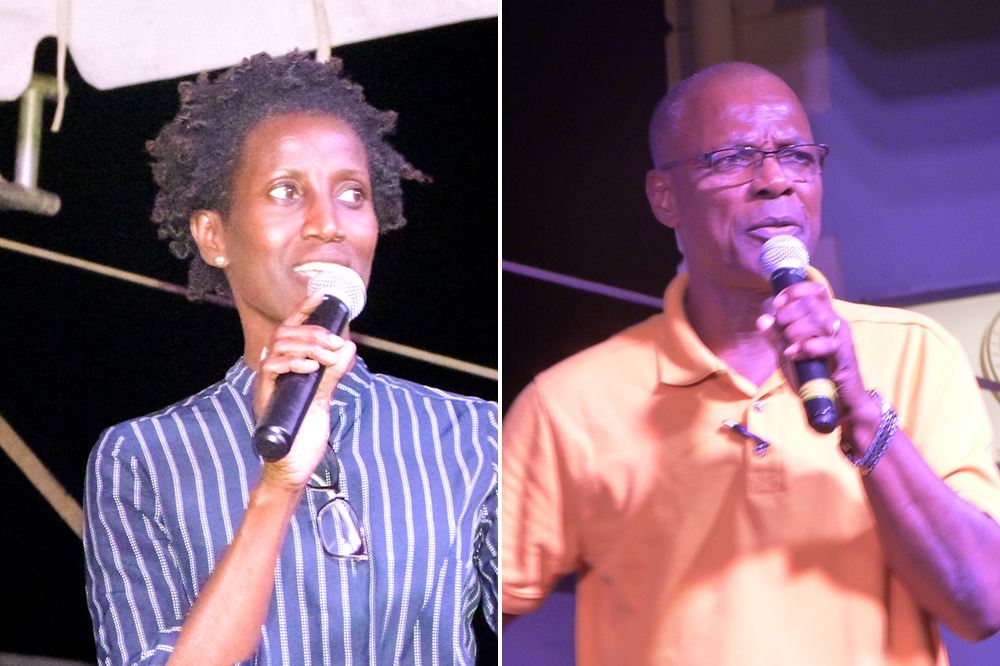 Barnwell fails in her bid to be elected VP; Sir James calls on her to resign
In the lead up to the Convention of the New Democratic Party (NDP) this Sunday, the Party has sought to quell factions of discord among members, following Executive elections last Sunday.
Most of the upset surrounds the failure by Senator Shirlan 'Zita' Barnwell to secure one of the two vice president positions up for grabs. She placed third, with 40 votes in the three-person race in which the member of Parliament (MP) for Central Kingstown St Clair Leacock got 196 votes and the MP for North Leeward Roland 'Patel' Matthews scored 175.
Both Leacock and Matthews were seeking re-election as vice presidents. This is the second year that Barnwell has failed in her bid to clinch one of the two VP spots. Last year, she secured 144 votes.
Barnwell had run a gender-focused campaign, saying the NDP needed to renew itself. "In the last 17 plus years, our Vincentian politics has resembled a recurring episode of men behaving badly," said Barnwell in a campaign speech circulated on social media.
"Our people are yearning for change, not exchange. And the NDP must continue to climb the stairway to progressive change. And so, we must develop policies and principles that are friendlier to everyone, including women and children and that are more appealing to the youth. That is why I am running for vice president of the NDP…," Barnwell said.
Chairman of the NDP Daniel Cummings, in an interview with Dwight 'Bing' Joseph on Boom 106.9 FM on Tuesday said there is no confusion in the NDP.
"The confusion Bing, unfortunately, is in your mind. You see the democracy in our party is at an ultimate high. Look at what happened in the electoral process. You have two outstanding vice presidents, you have a wonderful young lady, a lawyer, a human right activist, a person who has done significant pro bono work, who has made a name for herself. And she has decided, not for the first time, that she is interested in being in the high echelons of the party. Who can fault her for that? She went through the process."
Cummings opined that the delegates who voted felt it was not Barnwell's time; that she had been rejected temporarily, but true democracy is when everybody has a chance.
Meanwhile, Sir James Mitchell, founder of the NDP, has thrown his weight behind those who have called on Barnwell to resign her position as a senator in Parliament, making way for Iawyer Israel Bruce.
Mitchell, in an interview on Boom 106.9 FM on Monday said one cannot use the women's agenda to promote a particular individual and that Barnwell should realize that she is not going to be a candidate for the party.
"I think the graceful thing for her is to step aside and leave the way open for somebody else to be nominated in the Parliament," Mitchell said.
Last year, vice president St Clair Leacock had said that Barnwell should be replaced in Parliament by Bruce, who has been campaigning for the NDP in the South Central Windward constituency.
Cummings elaborated that it is because there is so much talent in the NDP why people get annoyed when their candidate of choice is not elected.
"There is such an array of talent in this party, unlike the other side, so when a particular choice is not elected, people get annoyed…. people love Senator Zita. It is a simple fact."
Cummings said that although Senator Barnwell is well supported in the party, it was simply that persons preferred the other candidates.
"She is not the one preferred at this time."
Those elected to the NDP executive in last Sunday's deliberations were Glenford Stewart as Deputy Chair; Doris Mcintosh, who replaced Margaret London as Assistant Secretary and Horace Williams, who replaced Bernard Mills as Treasurer.
The remaining members of the Executive include: President Dr Godwin Friday, Chair Daniel Cummings, Vice Presidents St Clair Leacock and Roland Matthews, Secretary General Tyrone James, Public Relations Officer Lavern King, and committee members Jeanie Ollivierre, Johann Stewart, Amos Cruickshank, Clemroy Bert Francois and Maurice Horne.
Sunday's convention will be held at the Greiggs Primary School and is open to the public.