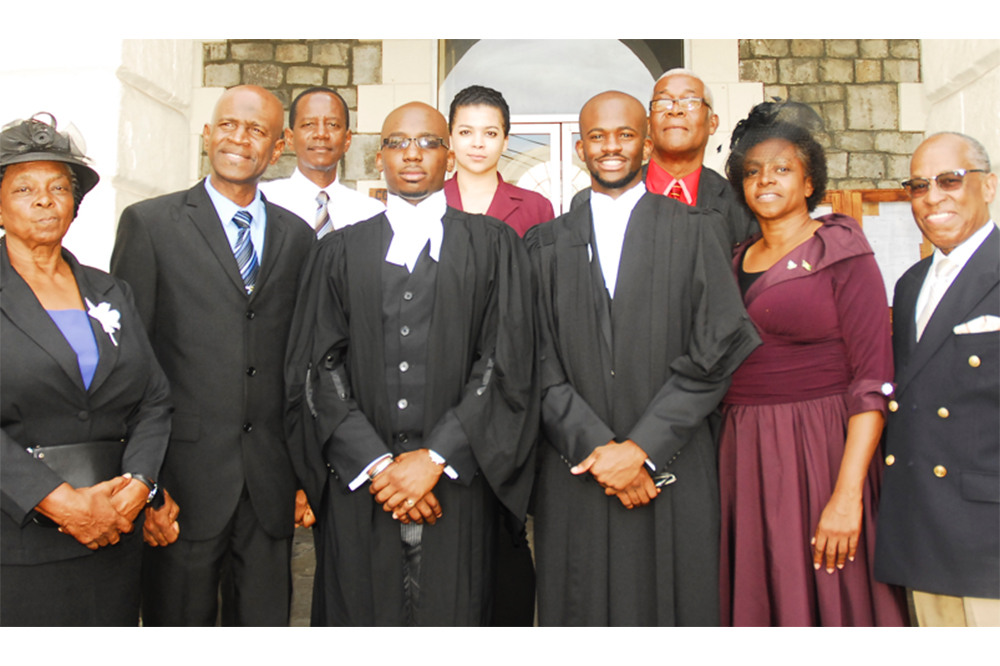 Charles called to the Bar of SVG
Last Thursday, Chevanev A Y Charles was called to the Bar as a Barrister and Solicitor of St Vincent and the Grenadines.
Charles, who is also called to the Bar in the United Kingdom, had his application before High Court Judge Nicola Byer was supported by Jomo Sanga Thomas and Kezron Walters.
In attendance were his father, former minister of Government Maxwell Charles; his mother, former minister counsellor (UK) Doris Charles, his brother also a barrister Mikhail Charles, deputy prime minister Sir Louis Straker, René Baptiste as well as Chester Charles, Sydney Daniel and Shonell Abbott.
Charles also graduated on a full scholarship in 2016 with a Masters (LL.M) in International Maritime Law with a distinction from the International Maritime Law Institute (IMLI) in Malta where he was also trained as a legislative drafter.
In his speech, Charles expressed his thanks firstly, to God, who continues to answer his prayers. Then to his mother, father and grandmother Ruby Mattis, for their love, support and prayers. Charles also expressed gratitude to Commander David Robin, June Gamble, Ranelle Roberts-Williams and to various family members, friends and mentors notably Javil Parris and Arthur Barbour. Throughout his speech, Charles referred to his achievement as a "starting line" and the principles of wisdom, humility and courage as well as the importance of learning from those who have come before.
The young lawyer also expressed special thanks to the Prime Minister Dr Ralph E. Gonsalves for his support over the years and particular appreciation and gratitude was also expressed to deputy Prime Minister Louis Straker for his profound and indispensable support throughout the years to his family and his educational pursuits.
Charles, an alumnus of St Vincent Grammar School thanked the hardworking teachers and staff who contributed to his sterling secondary education especially Curtis King (history) and Marie Williams (English).
Charles, an Adventist, thanked his church family in London, Malta and locally at Layou and Kingstown SDA church for the love and support they have shown him throughout the years. Charles is currently a consultant and legal officer at the St Vincent and the Grenadines Maritime Administration.