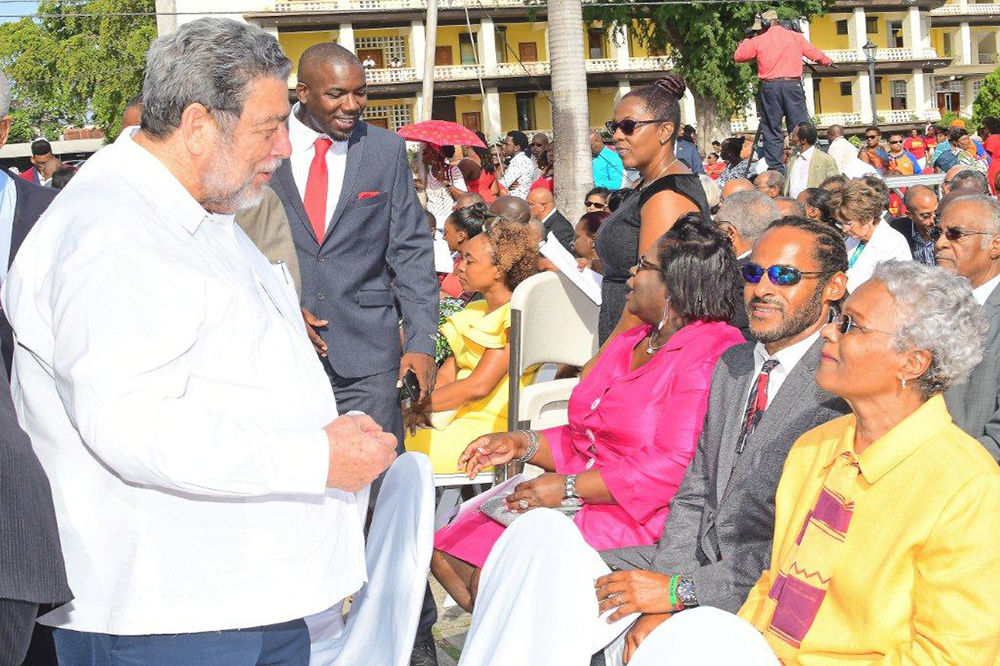 Barbados' first female PM's Cabinet takes oath in public ceremony
Mottley creates more history in Barbados
Sunday, in sweltering afternoon conditions, hundreds of Barbadians witnessed the swearing-in of the Barbados Labour Party Cabinet at the Bay Street Esplanade in the first ever public ceremony in the country's Independent history.
Members of Cabinet are usually sworn in at Government House but, in a break with a long-established tradition, Prime Minister Mottley turned what would usually be a semiprivate affair into a public event.
As crews from the Barbados Coast Guard patrolled the waters of Carlisle Bay and uniformed police ringed the perimeter, 24 Cabinet ministers and two parliamentary secretaries took their Oaths of Allegiance and Oaths for the Due Execution of the Office of Minister in a 90-minute ceremony before Governor General Dame Sandra Mason.
Mottley and Attorney General Dale Marshall had already taken their oaths on Friday afternoon.
Members of the crowd, who sat huddled under red umbrellas or shading their faces with their programmes, had reason to chuckle when new Minister of the Environment, Pan Africanist Trevor Prescod, seemingly stumbled over his pledge of allegiance to the Queen.
It was 3:53 p.m. when the island's first female Prime Minister arrived in her official car MP2 to a rousing cheer from the crowd. They applauded her as she alighted, giving them the victory sign and made her way to the raised stage.
Moments later, the Cabinet ministers filed out of Government Headquarters, across to the Bay Street Esplanade and onto the stage where they each received a welcome hug and words from Prime Minister Mottley.
Five minutes later, a fanfare and a flourish from the Royal Barbados Police Force Band heralded the arrival of the Governor General in her pearl white Mercedes.
On hand for the public swearing-in were St Lucia's Prime Minister Allen Chastanet; St Vincent's Prime Minister Dr Ralph Gonsalves; Grenada's leader Dr Keith Mitchell and the Deputy Prime Minister of St Kitts, Shawn Richards.
They were joined by Commissioner of Police Tyrone Griffith, Chief of Staff of the Barbados Defence Force Colonel Glyne Grannum, Chief Justice Sir Marston Gibson, some of his fellow judges, stalwarts of the Labour Party like Cheltenham and Forde, as well as noted the island's lone living Hero Sir Garfield Sobers, the National Union of Workers, Akanni McDowall, businessman Ralph "Bizzy" and his wife Shelly. They sat and listened as Gerry Seale, who presides Barbados District of the Pentecostal Assemblies of the West Indies, promised the new Cabinet ministers that all of Barbados would have them under a microscope and would not hesitate to show them the door with their X in five years.
And at 5:31 p.m., the people met their new Government when the ministers were introduced by master of ceremonies Dr Sharon Marshall.