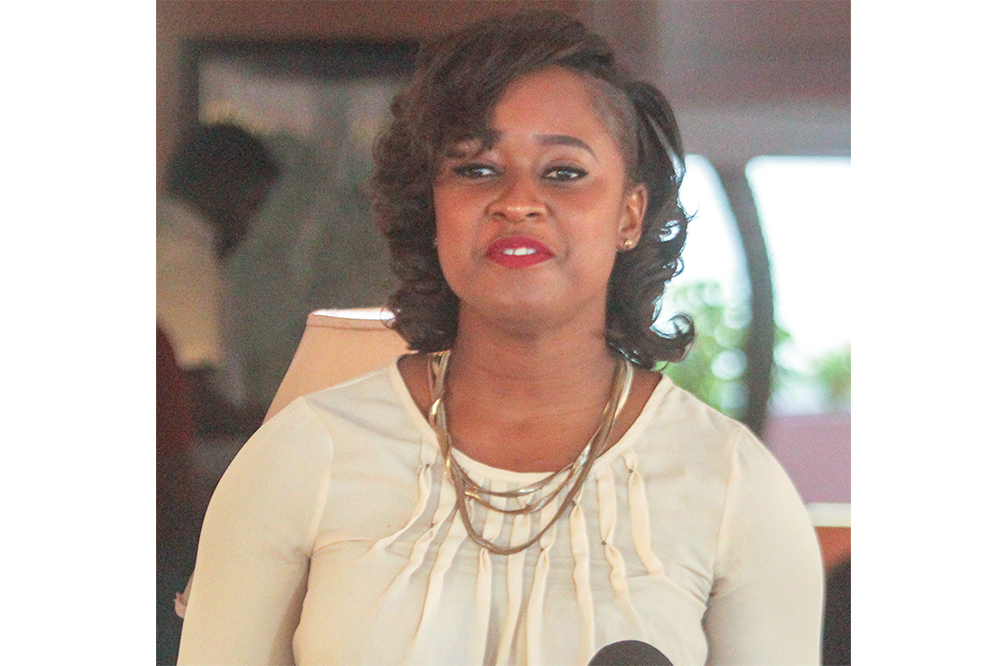 'Bacchanal Monday' will be an epic concert, says promoter
'Bacchanal Monday,' a new event for 2018 on the Vincy Mas calendar promises to be an epic concert with top class entertainers.
'Bacchanal Monday' is the brainchild of the promotional outfit known as 'Passion' and will be held at the decommissioned ET Joshua Airport in Arnos Vale on Monday, July 2."The people of Bacchanal recognize that it always has been and always will be soca.
Our cast will be unsurpassed for carnival, consisting of top regional acts and top and upcoming local soca acts," said Caricia Taylor last Thursday.Taylor is one of members of Passion and was speaking at the launch of the event during a press briefing at Mariners Hotel in Villa.
Taylor revealed the regional cast will consist of Shal Marshal, who has one of soca's biggest hits – 'Splinters' and Lyrikal, who is known for his wide repertoire of songs including 'Loner' and 'Dip and roll.'
"The headline act is the chart-topping Patrice Roberts who has created waves in the soca industry over the years, but more so in 2018," said Taylor.Roberts' hits include a duo with Kes called 'Like it like that' and a duo with Lyrikal called 'Criminal Wine.'
Roberts also has 'Sweet Fuh Days.'Local acts will consist of 'Problem Child', 'Fireman Hooper', 'Royale', 'Lektrik', 'Rus-T', 'Mad King' and 'Mason'."These are all artistes who people know and love and persons would be fully entertained by each artiste when they hit the stage.
We have gotten several requests to add many others, but as this is the first year for the event, we want to ensure the package is not stretched," said Taylor.Bacchanal Monday will also have local disc jockeys like DJ Q and DJ Fugitive of Sound Definishun, DJ Blaze, DJ Kal of Predominant Sounds and DJ Super Dog Pitbull and Chemical X of X and Dogg Sounds.
Also joining the cast is New York based DJ Justin Miller."Bacchanal Monday was conceptualised by a group of individuals whose wealth of experience in the entertainment industry and business world is not only locally known but recognised on both regional and international industry platforms.
"Bacchanal was chosen as the theme of the party due to the party's core purpose, embracing the influence of soca music and carnival to be free and have fun," explained Taylor.
She said that the group's intention is to create an atmosphere of pure energy, pure vibes, and an unparalleled positive party action.Taylor noted that the event's date is a day that traditionally has no major events although it is in the heart of the carnival season.
"We know it is a Monday and that is part of the beauty of Bacchanal Monday. For persons who love soca and love carnival, the day of the week does not matter. We anticipate over 5,000 persons. The comfort and security of our patrons is paramount as well as the assurance that our package will be second to none," stressed Taylor.There will be four types of tickets, a super early bird special at two for $50, an early Bird at $30, a regular advance ticket at $45 and a door entrance of $60.
This event is being sponsored by Hairoun Beer, Digicel and Tus-T water.Speaking at the event launch, Chairman of the Carnival Development Corporation (CDC) Ricardo Adams said the CDC welcomes the introduction of any event that helps to increase the value of the festival to persons coming to St Vincent and the Grenadines for Vincy Mas.
"Any events that help to fill the gap that we at CDC are not able to fill because we can only do so many events over the season are welcomed," said Adams.  Representative of Tus-T water Laferne Fraser said they are happy to be part of the event.