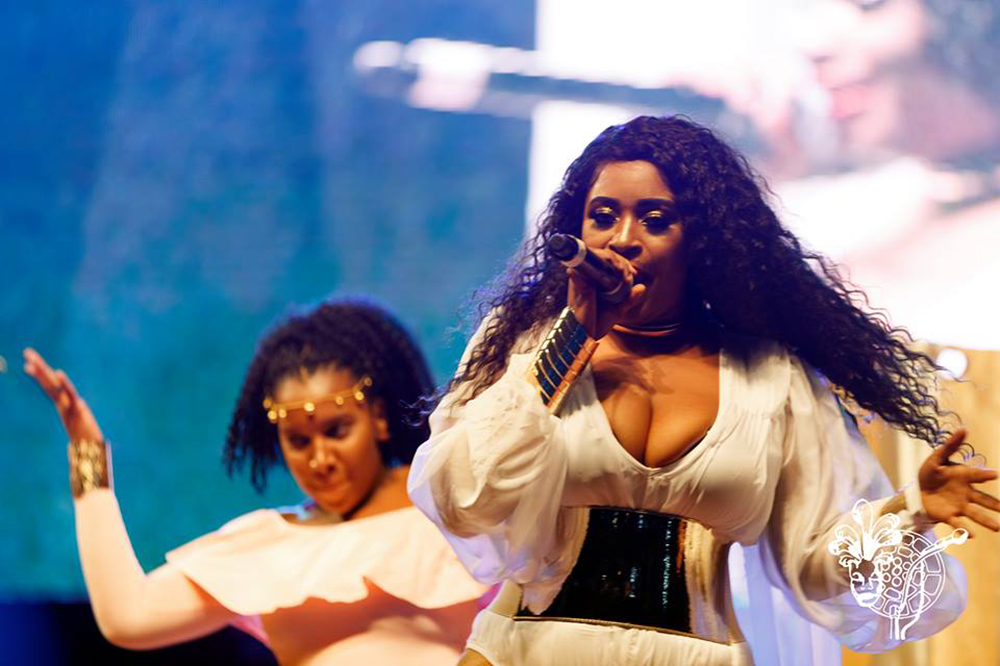 Nickie Pierre serves up heat on new track 'Pepper'
Nickie Pierre is "Hot and Gengeh" in 2018.The local artiste, known to some as Nickeisha Pierre and others as 'Nickie the Diva', has started the Carnival season with a blazing hot track called 'Pepper' and told SEARCHLIGHT that this time around, she is hoping to snatch the Ragga Soca crown.'Pepper', with the now viral lines 'Hot and Gengeh' was produced by Mark Cyrus, and written by Nickie. It was used as the soundtrack to introduce the Miss SVG contestants at the launch of Vincy Mas last Saturday, May 5 at the Victoria Park.
It instantly became a crowd favourite, and she later performed the track to an excited audience."I entered [the competition] last year for the first time with "Gimme" and got chosen for Ragga Soca, and it was a great experience, and I definitely want to enter again this year.
I have always dreamed about winning the groovy segment," Nickie told SEARCHLIGHT recently.She said while she did not place in the competition, and she went over her allotted performance time last year, she had a lot of fun and will try her best again this year.
"Every single year you have to step it up a notch, so expect great performances from me and a lot of great vocals, because I have been working on my craft, so it is just a lot of energy, a lot of adrenaline," Nickie promised.She explained that her inspiration comes from her background and the way she grew up, which is evident in her song 'Pepper'.She explained: "When I was a little girl, my momma used to say you just a little too hot, and you too damn gengeh."
"I grew up with brothers and sisters and my inspiration comes from my struggles growing up. I did not always have it and I always see music as an escape for me," Nickie told SEARCHLIGHT.She said one of the first persons to hear her sing was her brother Kelson Pierre, and he encouraged her to get into music, a decision she has not regretted.Nickie said that apart from her childhood experiences, she is also inspired by other artistes like Alison Hinds, Destra Garcia, Patrice Roberts, Lily Allen, and Amy Winehouse.
In relation to her name, the Campden Park/Lower Questelles resident said she decided to change her singing name to 'Nickie Pierre' because the name 'Nickie the Diva' was chosen when she was younger and inexperienced in the music business.
"The kind of audience that I am trying to reach now, I feel like just giving it my real name. To me I think it's more reachable to a wider audience internationally," said Nickie who does not label herself as strictly a soca artiste."I am doing a lot of pop music and that is where my heart is, but I love soca too, as soca is our culture, that's why I do it.
How can you be a singer and not partake in soca and you come from St Vincent and the Grenadines?", questioned Nickie who is currently recording pop tracks that will be released after the season.Some of Nickie's tracks include 'Can't get enough', produced by Parry Jack, 'Feeling good' and 'Weh yuh want'.
She has been in the business for eight years now, having started professionally in 2010 with the band Hot Sand. She later moved to the band Kinetic after which she moved to New York and hooked up with the band Solid.
She recently decided to go solo and produced songs like 'Waistline Wuk' and 'Walkout' and disclosed that producer Adrian Bailey is one of the first persons to record her music.The versatile artiste has been published as a writer by her manager Mark Cyrus.
Nickie may be viewed on social media on every platform through "iamnickipierre". Bookings may be done at [email protected] encourages persons who can sing to get involved in the artform, "either you have it or you don't, and once you have it, you have to make use of it," she told SEARCHLIGHT.