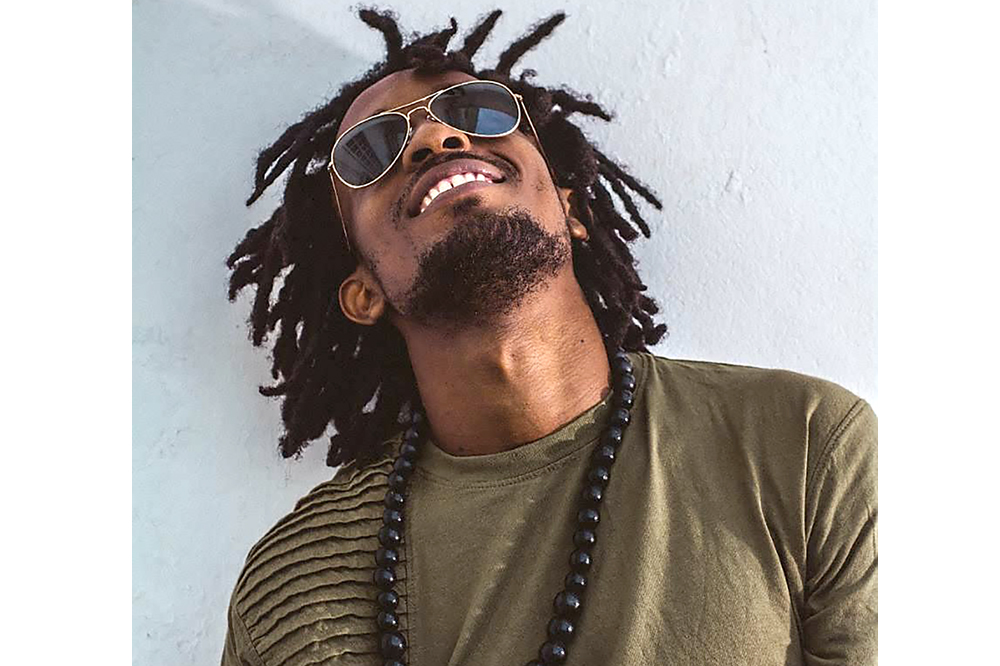 'Brave' rockets local farmer to stardom
From farming in the community of Lowmans Leeward to entertaining mammoth crowds in Notting Hill, London, Joel "Dynamite" Tyrel has moved from doing what he had to do, to doing what he loves.
The artiste, known locally as, "The ratatata man", released on March 15, 2016, "Brave", the song that propelled him to stardom, and since then, he has rubbed noses with some of the biggest names in not only the regional Soca arena, but the international music industry.
"What I always wanted to do I am doing and the way that it is happening I am pleased with it and I have no regrets. I don't owe no apology to nobody because when I started out with music, a lot of people told me I wasn't going to make it and I have proven them wrong so every day I get up, I focus on putting out good material and sending a message to the youths," Dynamite told SEARCHLIGHT in an exclusive interview recently.
The outspoken artiste, who made his Soca debut at the launch of Vincy Mas 2017 and shook the crowd, said that during the routine, he was amazed at the reaction of the crowd and up to this day, although he has performed in many places since, that remains his personal best performance.
He said he watches the performance on YouTube regularly and is still amazed at the love he received as he was a reggae artiste before Soca but never got that kind of reaction.
Shortly after that performance, Dynamite (a name given to him by producer Lonzel "Gizmo" Jones in 2012), quit his 9 to 5 job and decided he was going to pursue music full time, a decision that did not sit well with many persons. Since then, he however has been doing music full time, consistently, all year round.
"…and my plans are to step it up bigger, better and improve my performances as my sound production and the quality are very good," said Dynamite who hopes that he gets booked for every single show for Vincy Mas 2018.
So far he performed at the launch of Vincy Mas 2018 on Saturday May 5, and at 'Pork on the Beach' on Sunday April 29.
So where has Dynamite been since he came out with "Brave" a little over a year ago?
"Brave took me around the world," he boasted.
He has performed in England and Trinidad while Brave was signed to Black Butter Sony Records in the UK and Bacardi USA took him on a campaign to give artistes recording studio time during a promotion called "Sound of Rum".
Dynamite also has collaborations with Barbadian 'Stiffy', Shertz 'Problem Child' James (a song called Haters), producer Bad Royal from Los Angeles (song called Can't Fed Up). The Jamaican dancehall group RDX has remixed Brave while he also has a song called 'What is that' with producer 'Stadic'. There is also a song with Kevin Lyttle and collaborations with King Bubba of Barbados and DJ Honour.
"When I release a song, it is not just for the Carnival here but for the world. I am from Vincy and I represent Vincy to the core and so much doors are opening up for me and I am trying to make the best of the opportunity," said Dynamite who has bookings for Antigua, Grenada, Bahamas and other places.
"I never thought Brave would have done that and I give thanks to the blessing from the universe and the Almighty."
In relation to competing locally, Dynamite said he would not be taking part in Soca Monarch or any other competition, a decision he was criticized for last year when he opted out of the competition to go on the Bacardi tour. Dynamite said he does not regret choosing the tour over staying in SVG to compete as that tour opened doors for him.
The rootsy artiste also wants persons to encourage youths when they see them doing something positive.
"It is not where you are from or the circumstances you might currently be in, but it is the goal that you set for yourself and what you achieve because there is no limit to anything that you want to achieve the only limitation is what you place in your mind.
"When you see a youth come out he shell, you have to encourage them because they are the future. The music supposed to be about changing lives," said the 27-year-old.
Dynamite is managed by Mark Cyrus of Master Room Studios and is currently in a relationship with artiste Nicki Pierre. He can be reached at "dynamitetunes" on social media or at [email protected] or 1-784-498-3201. His website is www.dynamitetunes.com.