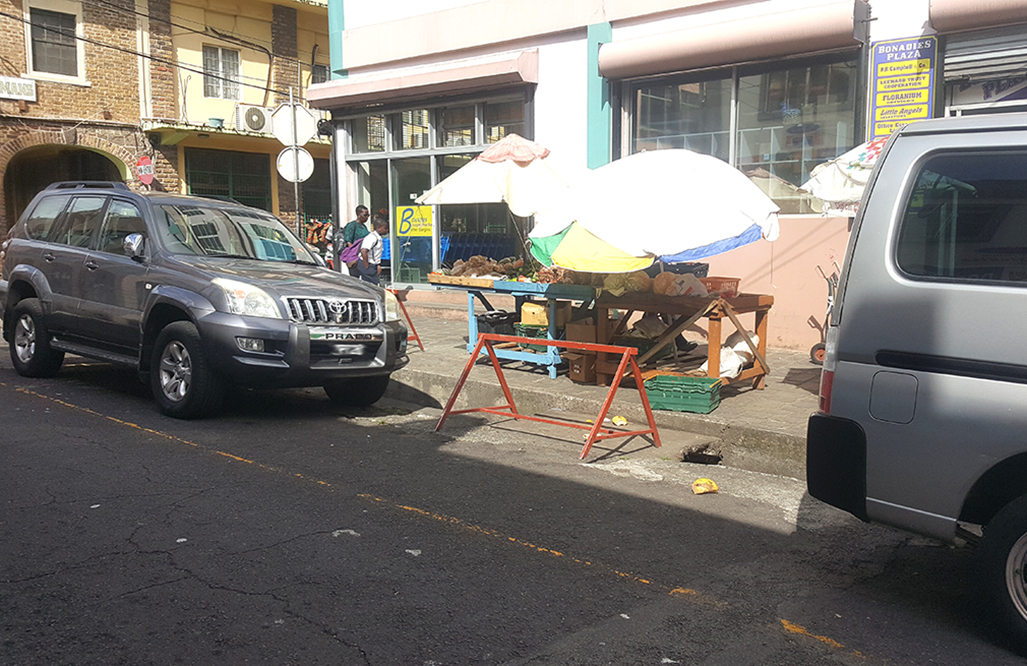 Refrain from using items to reserve parking spaces – Traffic Department
Operators of businesses in Kingstown are asked to refrain from using items like stones, cones and steel rails to reserve parking spaces in front their businesses for personal use, as the action is illegal.They are also being asked to refrain from using their designated loading bays, which are marked in yellow by the police, as parking spaces for their private vehicles.Commenting on the unlawful acts, Inspector Henry Providence of the traffic division of the Royal St Vincent and the Grenadines Police Force (RSVGPF) told SEARCHLIGHT on Monday that his department is clamping down on the prohibited practices.
"We recognize that a number of companies have been asking for loading bays for customers to pick up goods and to drop off goods and they have been using it as a parking space or a parking lot for their privately-owned vehicles. That is not to be."A loading bay is for the purpose of offloading goods for a company or for a customer to pick up goods from a company, not for any other purpose and that is something we recognize has been happening a lot and we are in the process of looking into that," Providence told SEARCHLIGHT.
He said at times, companies' vehicles have been clamped in loading spaces that belong to the company because it is not for the manager or the supervisor to park their vehicles."You can be clamped, ticketed $80, failing to comply with the road sign, and you will have to pay a penalty also for the removal of the clamp once the police recognize you are parked illegally."Providence noted that in the past, the police have removed benches, stones and iron rails, but now, a trend is seeping in where business places are placing cones in the parking areas.
"Nobody other than the police have the authority to put down cones. It is illegal, and we have told persons in the past to remove these cones or stones or whatever is used to block the space," said the Inspector who added that drivers may remove these illegal items and park their vehicles once they are not marked out in yellow by the police.
"You pay licence and taxes like everybody else," Providence told SEARCHLIGHT, adding that the illegal practices are rampant on Lower Middle Street, Back Street and Egmont Street."We want to appeal to persons to desist; it is illegal, you have no right to put anything to hold any space. People have the right to park," stressed Providence.He noted that businesses may apply for a loading bay by writing to the Commissioner of Police.
Letters must state the reason why the loading bay is needed, following which the claim will be investigated by the traffic branch."Once we are satisfied that you have cause or need for a loading bay, we will inform the Commissioner," said Providence who added that no fee is attached to loading bays, but the business must provide the paint to mark the spot.
[Updated on May 9, 2018 at 1:10 pm to correct the rank of Inspector Providence]