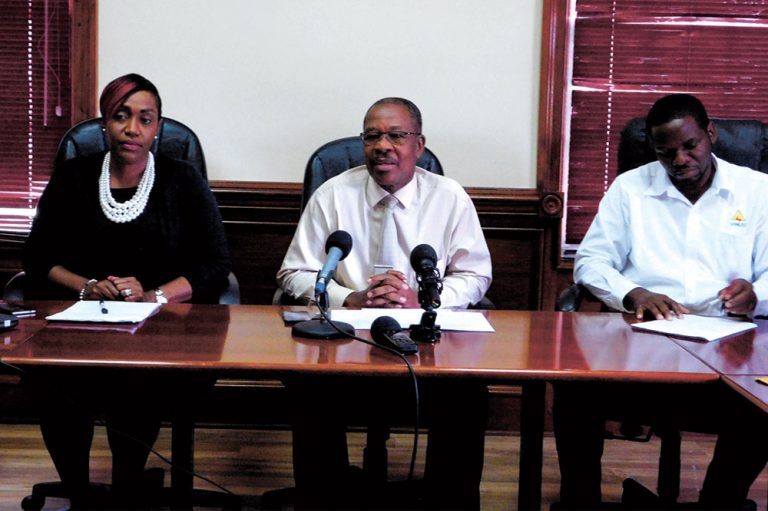 VINLEC appeals for wider usage of RCDs
THE PUBLIC IS BEING asked to consider installing residual current devices (RCD) in their homes, to reduce the risk of electrocution.
The St Vincent Electricity Services Limited (VINLEC), as part of its campaign to commemorate Environmental Health and Safety Awareness month, made the request at a press conference on April 25.
Thornley Myers, VINLEC's chief executive officer, explained that RCDs should be used at the outlets of specific appliances like washing machines, but the device may also be installed at the circuit breaker.
He explained that the risk of getting shocked or electrocuted is significantly reduced when RCDs are used, highlighting that cases of persons being electrocuted in their homes could have been prevented, had RCDs been used.
"What this would do, in very simple terms, is if for one reason or the other, there is a breakdown on the insulation in your washing machine, or there is water that causes electricity, some how, to travel across the electrical circuit to the metallic parts of your washing machine, that device would trip and therefore avoid you getting shocked," Myers said.
"There have been a number of incidences here that could have been avoided. There are alot of persons who use extension cords. Extension cords after a time get twisted, worn…. The years I have been around electricity, I know a number of persons who have been electrocuted through the use of extension cords. If you have a residual current device at the source, it is not likely that those persons would have been electrocuted."
Myers said devices that come into physical contact with humans such as fridges, shaving machines and blow dryers should have RCDs at the outlet level.
"They are significantly more expensive than the normal outlet. I am aware where the normal outlet may cost you $30$35, you will pay approximately $100 for an outlet with a residual current device installed on it. We are not asking persons to do so for every outlet….
"A discussion with your electrician can help to guide you as to what you can do to protect yourself and your family," Myers added.
He highlighted that it is now mandatory for all construction sites to use RCD's.
Throughout the month of May, VINLEC will be hosting in-house training seminars and events to commemorate Environmental Health and Safety Awareness month.(CB)
VINLEC CEO Thornley Myers (centre) flanked by Tamara Job-Sprott (left) and Anthony Patterson.