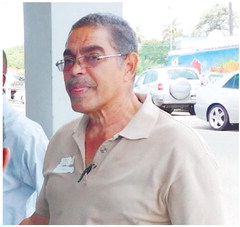 Nice Radio boss threatens to shut down radio station
WITH THE THREAT of another lawsuit hanging over his head, Nice Radio owner and manager Douglas "Dougie" DeFreitas is threatening to shut down his radio station.
A frustrated DeFreitas made the statement on Wednesday, hours after Prime Minister Dr Ralph Gonsalves said he intended to sue Nice Radio and radio host Colin "The Hitman" Grahame for defamatory statements made by a caller to Nice Radio on April 3 during the New Democratic Party's (NDP) New Times programme, which was being hosted by Grahame.
Speaking on Boom 106.9 FM's OMG in the Morning programme, DeFreitas asked the Prime Minister not to sue him.
"If he wants to sue the Party (NDP) and Colin, that's okay. I am asking him not to sue me because it is destructive to me. I will just shut down the whole blooming station and find something else to do. I can't go back to people and ask for people to pay those kind of monies. I will shut down the station," stated DeFreitas.
He asked if the NDP would find the money to pay, claiming that this country's main opposition party had never written a personal cheque to him when he had been sued on previous occasions, although they begged persons outside the party to help to pay.
DeFreitas said that Grahame should have known better than to allow the caller to proceed with his comments and he only learnt about the statements this past Tuesday at around 10:30 p.m. when someone told him that the Prime Minister announced that he was going to sue Nice Radio and Grahame.
The caller had made statements about the Prime Minister and members of his family in relation to offshore bank accounts.
Gonsalves spoke about his intention to take legal action on Star FM during a programme hosted Tuesday night by Unity Labour Party activist and talk show host Frank DaSilva who had played a recording of the April 3 call from someone claiming to be calling from Canada.
In his call to the programme, Gonsalves said a recording and a transcript of the call had been passed on to his lawyers.
"I was away in the USA on April 3 and didn't know. I was shocked," DeFreitas told BOOM FM's Dwight "Bing" Joseph on Wednesday.
DeFreitas said that after he was informed, he phoned Grahame and told him he should not have allowed the caller to have the conversation, because he could not prove what the caller was saying.
"These things happen so often, we supposed to be aware of that. Cut the person off…", said DeFreitas who disclosed he has, on several occasions, had to call the Prime Minister to apologize for things that were said on his station, although he had nothing to do with the comments.
He said he is frustrated as he, his business and his family are being destroyed in the process.
"…Then you have these ignorant people in the Diaspora who feel that they can call and say anything and believe that they are not affected…," said DeFreitas angrily. The radio station owner said he understands the frustration of the Prime Minister and while he and Gonsalves may never see eye to eye politically, his intention is not to defame anyone.
DeFreitas said that he has apologized for the statements made by the caller and he is hopeful that his radio station will not be sued.
Talk show host Grahame also apologized to the Prime Minister on Wednesday morning, live on Boom FM. He agreed that allowing the caller to continue speaking showed a lack of judgement and he should have stopped the call.
On February 25, 2013, BDS Ltd, the parent company of Nice Radio, paid $206,142.47, the full judgement debt plus costs and interest for a defamation case which the Prime Minister won against BDS Ltd and NDP talk show host Elwardo Lynch (deceased).
In May 2014, the Prime Minister demanded payment of aggravated damages that he had been awarded by the court against BDS Ltd and pharmacist Matthew Thomas in February 2012. As at May 9, 2014, the debt had reached $185,370.31 having accumulated interest. DeFreitas said on radio on Wednesday that he paid EC$150,000, while the Prime Minister agreed to forgive $60,000.
"I appreciated that", said DeFreitas who revealed that he still owes Gonsalves about EC$5,000.
On both occasions, payment was facilitated by contributions made by the public to a 'Save Nice Radio' fund. DeFreitas has also had to apologize in writing to Gonsalves on at least two other occasions.
NICE RADIO OWNER and manager Douglas "Dougie" DeFreitas