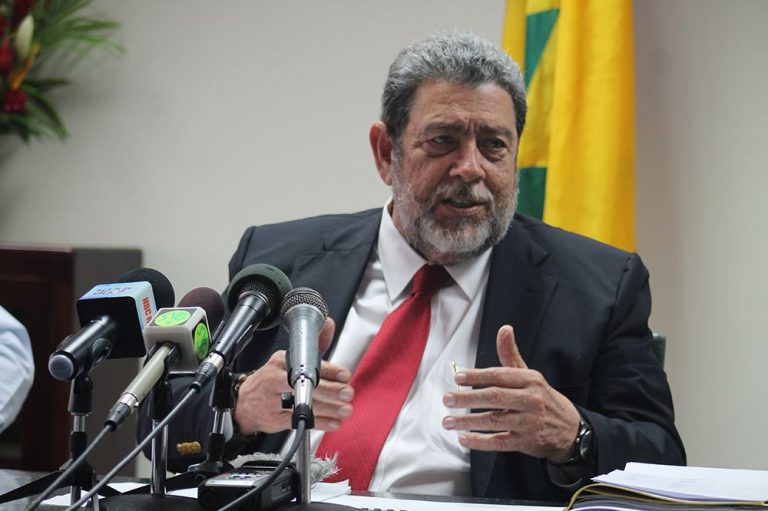 Gonsalves describes OAS chief's stance on Venezuela as outrageous
There is a clear and calculated strategy in place by a group of nations to achieve regime change in Venezuela by using the Organization of American States as a weapon of destruction.
This is the opinion Prime Minister Dr Ralph Gonsalves, which was recently expressed in a three-page letter to CARICOM's Heads of State and Government.
"There are insidious developments at the Organization of American States (OAS) that should trouble each of us. Among these developments is the introduction of World Trade Organization (WTO) 'green room-type' process by which a small group of powerful states on the Organization are seeking to impose their will on the decisions of member states. They are doing so by first settling a core position among themselves and then luring selected small states to support their stance," the letter said.
He stated that this divide and rule tactic has always been a weapon in the arsenal of a small group of powerful nations in their relations with a bigger number of weaker countries.
Gonsalves noted that there are a handful of powerful countries who have an agenda of naked self-interest and have strategically invited selected CARICOM countries to their meetings and ignored the others.
He noted that because of this, they have succeeded in disuniting and weakening CARCOM countries, whose only strength lies in solidarity.
"This worrying development has been particularly manifest in matters related to Venezuela."
Gonsalves noted that there is a clear, calculated strategy in place by a group of nations to achieve regime change in Venezuela by using the OAS as a weapon of destruction.
"Their language is cast in adherence to the principles of democracy, constitutionally and humanitarianism, but behind the façade lies the sinister intent of toppling a duly-elected government that challenges their unbridled hegemony in this hemisphere," the Prime Minister stated.
Gonsalves added that 'a chosen and willing tool' has been Secretary-General Luis Almagro, who, as hemispheric public servant, far exceeds the authority reposed in him by governments by publicly attacking the Head of the Government of Venezuela.
He described Almagro's behaviour as outrageous, stating that it has not been censured by any of the powerful governments, but rather been applauded by a number of them.
"In violation of the Charter of the OAS, both the US Executive and its Legislature have openly pressured member states to support Mr Almagro and to condemn the elected government of Venezuela," Gonsalves said.
The Prime Minister stated that as small countries that rely on institutions of multilateralism and their rules for protection, they (CARICOM) should resist these assaults in their own interest.
He pointed out, each CARICOM member has specific concerns about Venezuela's political, economic and social condition; however, as seasoned political leaders, they know that toppling a government will not end those conditions, particularly when there is no viable, electable singe alternative to replace it.
"Only disorder and disarray will result," the Prime Minister noted.
However, he said that there is a constructive role that CARICOM can play in promoting dialogue and helping to resolve the conflict in Venezuela.
Gonsalves stated that in the meantime, none of the countries should allow themselves to be abused into breaking their solidarity and aligning themselves with fair-weather friends.
"The very countries that lure our nations into supporting their actions are the ones that are neglectful of our situation and who worsen them by their actions on matters such as the withdrawal of correspondent banking relations and branding our countries as money launderers, and drugs and firearms traffickers," he pointed out.
Gonsalves added that when they have accomplished their objective by breaking CARICOM's solidarity, by having some side with them, they will be relegated to the "margins of their concerns – only weaker than they were before".
He also appealed to his colleagues to instruct their missions to the OAS to maintain their solidarity on the basis of the principles enshrined in the Charters of the United Nations and the OAS.
Gonsalves urged CARICOM members to not agree to a proposed meeting of Ministers of Foreign Affairs, until the purpose of the meeting is fully understood and the governments are presented with a draft from such a meeting, prepared and agreed on by a committee of the OAS representatives of all members of the organization in an open and transparent manner, subject to Cabinet approval.
Gonsalves also pointed out that should CARICOM agree to such a meeting without a clear understanding of its outcomes, governments will be walking into an ambush that would not serve their collective interest.
He commended the observations to his colleagues and would welcome hearing from them.