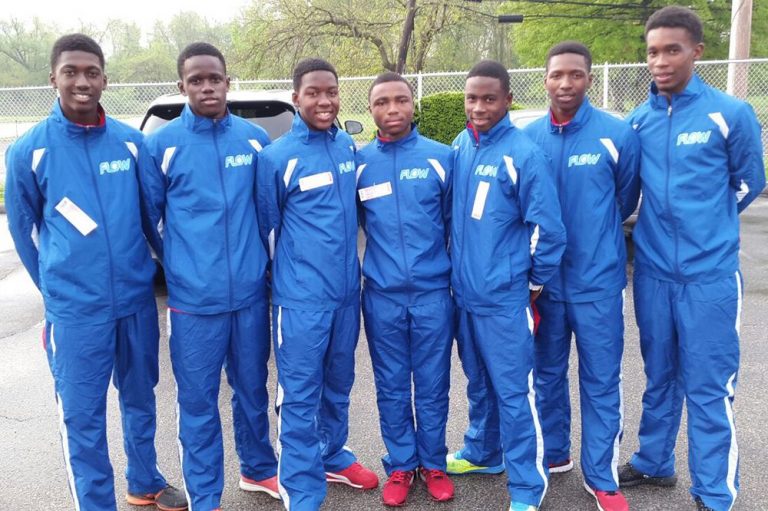 TSSS thanks FLOW for support in Penn Relays
The 10-member Thomas Saunders Secondary School (TSSS) relay team that took part in the 123rd edition of the Penn Relays is thankful to telecommunications company, FLOW, for helping to make the trip possible.
The team was made up of seven athletes: Atiba Lewis, Zenron Chance (competing in the Penn Relays for the second successive year), Immanuel Henry, Inglis Daniel, Joel Jack, Mourice Foster and Aaron Hazell; and three officials: head coach Godfrey 'Fuzzy' Harry, Farrah Bailey and Javed Marksman.
Harry said that FLOW has been assisting the team for the last three years, by purchasing track suits and paying part of the airfare to Philadelphia, Pennsylvania.
"Their contribution is very significant and we welcome it. Every year that they have contributed has helped us to go, and it is significant. We welcome it and we hope they will continue," said Harry.
He said that the team did well, despite the fact that the athletes who get to compete at the relays every year from St Vincent and the Grenadines are new.
Harry said that the athletes from the other competing countries train together longer than local athletes, because TSSS athletes leave school at form five, two years after they become eligible to compete at the relays, while other countries have their athletes for four years.
In the 4x100m, TSSS clocked 45.58 seconds and in the 4x400m they clocked 3 mins 27.41 seconds.
Corporate Communications officer at FLOW Nikala Williams said that the company is happy to assist the youths, as they pursue positive and life changing endeavours.
"We are always glad to help out whenever we can, especially when it comes to the nation's youths," said Williams.
The Penn Relays (also Penn Relay Carnival) is the oldest and largest track and field competition in the United States, hosted annually since April 21, 1895, by the University of Pennsylvania at Franklin Field in Philadelphia, Pennsylvania.
The relays were held from April 27 to 29.