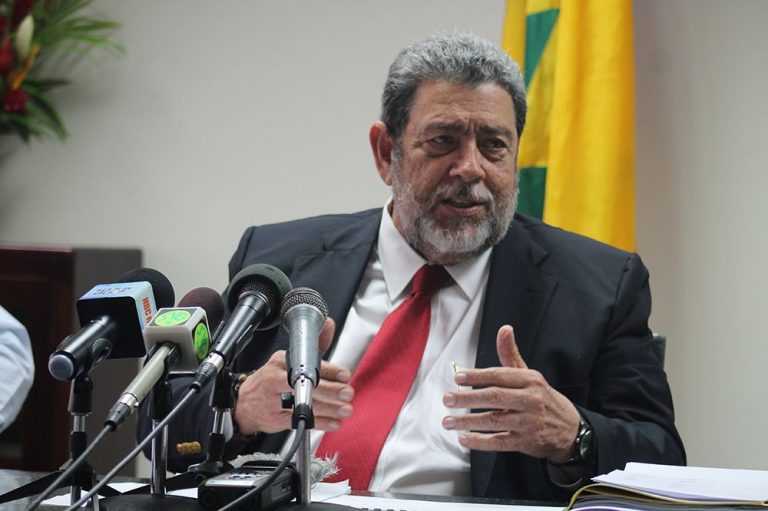 PM optimistic about new tourism investments
Prime Minister Dr Ralph Gonsalves is optimistic about the prospects for new tourism investments in St Vincent and the Grenadines.
In fact, Gonsalves disclosed that several hotel investors would be visiting the island in the coming months for talks on a number of possible projects. He was speaking at a media conference at Cabinet Room on Tuesday.
Gabriel Escarrer, chief executive officer of the Meliá Group of Companies, which operates a global chain of hotels, visited the island on Wednesday, May 10, for a meeting arranged by Cuban President Raul Castro, who has a friendly relationship with the CEO.
"They can see possibilities if they are here — the link between hotels in Cuba and here, multi-destination tourism and all that. [These are] concepts which people have been talking about for years, but which we have the ability now to put in place because of the presence of the Argyle International Airport and other supporting facilities," the Prime Minister said.
Additionally, representatives from Virgin Atlantic visited the island on Tuesday, May 9, to look at the Buccament Bay Resort.
"We are all keen to see Buccament come up back … certainly for the tourist season," the Prime Minister said.
Gonsalves also disclosed that the Andreas Pignataro group, which already has hotel investments in Canouan, has expressed interest in constructing a hotel to accommodate pilots and crew who travel to Canouan.
"In fact, with the number of private jets which are coming to Canouan now, they don't have enough space for their parking. And they would want Argyle to be the … hub," he said.
Gonsalves revealed that because of this, arrangements have been worked out with the Argyle International Airport for an area to construct a hanger and a fixed-base operation to service these jets.
He explained that the investors have been actively looking for lands to construct the hotel.
Minister of Economic Planning Camillo Gonsalves has been talking with local interests to get them to partner with the state in the construction of a hotel that would be managed by a reputable private sector entity, Gonsalves added.
"We have been giving approvals to several Vincentians who are expanding their hotels and who are building apartments and the like. I am happy to see that we picking up in that regard," the Prime Minister remarked.
He noted that it was important to ensure that persons in the rural areas benefit from tourism projects, adding that the Government is prepared to assist those who are willing to invest in the sector.
"There are timber cottages which can be put down from North Leeward … backward to North Windward and in between, but I am very optimistic as to what is happening," the Prime Minister said.
He stated that at the recent Caribbean Hotel and Resort Investment Summit in Miami, which is an annual gathering of hotel and resort entities operating in the region, and which addresses issues of hotel and related investments, he invited participants to invest in St Vincent and the Grenadines.
"I was able to explain the opportunities which were available for investment in these areas, both hotel and resort construction," Gonsalves said.
Additionally, he said meetings were arranged for him to have talks with an investment entity, adding that he is also in touch with representatives of three recognized hotel brands.
"Two of them Camillo had been in touch with and assisted in arranging those meetings… Two of those name brand hotel representatives are coming between the 15th of May and the end of June. They have to inform us of the specific time, but the discussions are promising," Gonsalves concluded.