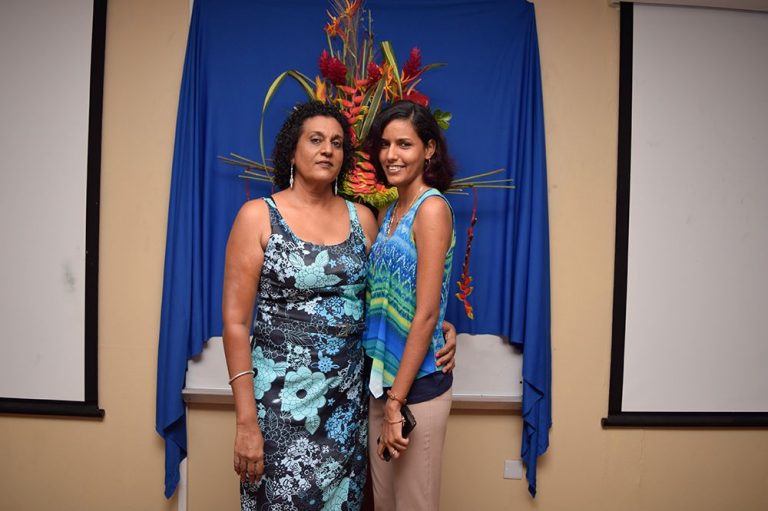 Vincentian in Trinity Fifth Term ceremony
The Trinity School of Medicine Class of 2019 held its students' Fifth Term Clinician Ceremony at the Ratho Mill campus on Wednesday, April 19. The future doctors could not contain their excitement at having actually arrived at this pivotal point of completing their two years of Basic Sciences, in their journey towards becoming physicians. Among the students passing on to this next phase was Vincentian Khande Francis of Layou, daughter of Gideon and Carmie Francis.
Khande joined the pre-medical programme at Trinity in 2013, and then the medical programme in 2015. She has been involved in organizations of student government at Trinity and was always willing to give of her time and to share her knowledge and practices of her culture with her colleagues. She, however, called her journey through two years of medical school hard, but rewarding. "The journey was hard, but at the same time, rewarding. We watch shows on television that display what happens after med school and people would look at them and forget about all the nights of studying and crying," she stated with confidence. "I think at some point it's your baby. You know if you're raising a child, you'd have to be there in the beginning, when it is crying and it's just a mess for all parents; but then in the end, you get to see the child you've raised and you realize that you did this… this is your work." She believes that whatever you put in is what you get out in the end.
It was these first two years of medical school that dean Dr Linda Adkinson sought to summarize. "The first two years is really an awakening for the student, but just like going to medical school anywhere in the world, it is a very different way of learning," she observed. "The amount of material, the pace of the learning is very fast and very deep, and so there's a lot of adjustments, not just to the fact that they've come to a Caribbean island, but having to really step their game up". She indicated that at Trinity, students are very fortunate to have a very dedicated faculty and staff, who work full-time days, nights and weekends, helping them become successful. "They learn a lot of their basic sciences here. They begin to learn how to use that material when talking about a patient. The patient isn't going to say, 'I have a biochemistry problem', or 'I have a pain in this pathway'. They're going to say, 'Here's my chief complaint', and the student has to start thinking what could be wrong inside and where, and how do I tease that out from things that are very similar? That's what we do here; it's to get them thinking in those terms, so when they see real patients, many of whom they see here in the island, they think more like a doctor when they get to their clinical rotations."
In order to begin these clinicals, Khande, will join her colleagues in studying to write the upcoming United States Medical Licensing Examination (USMLE) Step 1, which gives medical students and graduates licence to practise medicine in the United States. She hopes to take the exam in August, 2017 and then proceed on to the next stage.