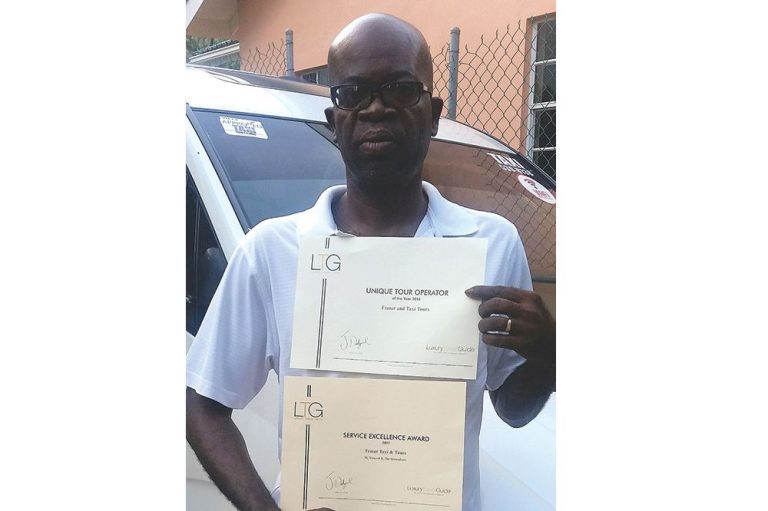 Vincentian tour operator wins Luxury Travel Guide award
Vincentian land tour operator Trunos Fraser was among the 2017 recipients of the Luxury Travel Guide Award for Service Excellence.
Fraser was able to get the nod from experienced in-house professionals, as well as several celebrity guest judges.
Fraser, a tour operator who has been in the hospitality business for the past four years, said he was thrilled to receive the prestigious award.
"What this has done is help to further publicize my business, Fraser Taxi & Tours," Fraser, a resident of Barrouallie said.
The taxi operator said the award was as a result of his excellent hospitality extended to tourists who use his service.
"Many of my clients were from the Buccama Resort, and they would have given me great reviews for my service and recommend me to others," Fraser commented.
Fraser, in 2016, collected the Unique Tour Operator award, and according to him, the 2017 award showed, "I am doing something right".
He noted that apart from giving the guests a good experience here, he uses Facebook to advertise his services to potential clients.
Specializing in land tours to nature sites, Fraser said he will not be relenting on his services, as he plans to make certain that St Vincent and the Grenadines gets the exposure it truly deserves.
In acknowledging Fraser's accomplishments, Max Bond, Luxury Travel Guide Awards co-ordinator wrote: "All Luxury Travel Guide Award programs represent the pinnacle of achievement, championing the best in their respective fields; therefore to come out as a clear winner is an achievement to be proud of".
Fraser, along with other awardees of the Luxury Travel Guide awards, will gain a place in the soon-to-be-published award winners, which has a reach of over half a million subscribers, while 250 000 copies are sent to luxury hotels, cruise ships and airport lounges across the world.