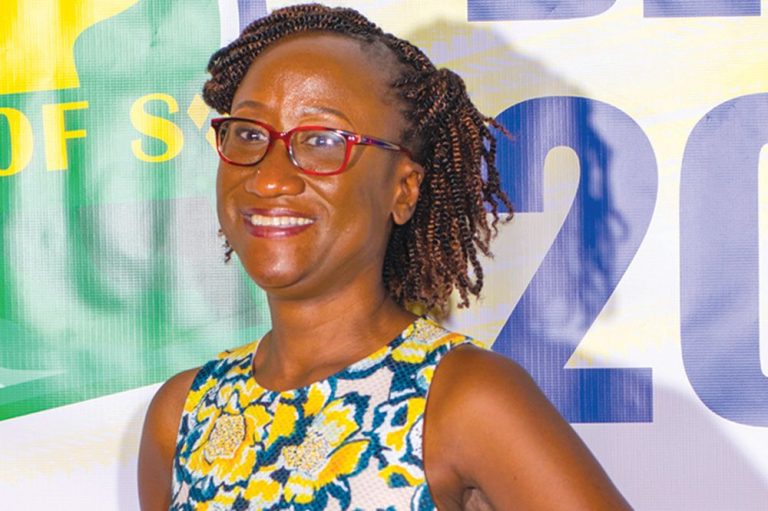 Promote yourself, business as a Best of SVG winner – Keizer
Managing Director of Interactive Media Limited, publishers of SEARCHLIGHT Newspaper, Clare Keizer says that the Best of SVG Awards was created to help encourage a culture of excellence in our multi-island state.
And Keizer, speaking at the Best of SVG Awards ceremony, which was held at the St Vincent Community College last Sunday, said that despite not winning, just being nominated means that persons appreciate the service being given.
"There are no losers here tonight. Dozens of people, businesses or organizations were nominated in each category. Finalists, the fact that you were in the top three of your area of specialty speaks to the excellence of your product or service and how highly regarded you are by the people of St Vincent and the Grenadines," Keizer told the gathering of professionals, their family members and friends.
She said that finalists should now capitalize on the fact that they were in the top three and, "proudly promote yourself or your business as such".
In addition to the finalists, there were hundreds of persons and businesses that were nominated, but whose names were not mentioned and Keizer said that they too must be congratulated, as someone recognized the quality of what they do.
"Some finalists shared that they were nominated in categories that do not describe the activity they are involved in. The results reflect what the public perceives that you are good at. On the ballot paper, we did not suggest to the public any names from which they should choose, nor did we suggest criteria they should use in determining who they think is the best," explained Keizer.
Winners were given certificates of recognition and a bumper sticker, proclaiming them the winner of the 2017 Best of SVG campaign.
"Display them proudly in your business place or on your vehicle. Use the fact that you are the Best of
SVG for 2017 in advertisements," encouraged Keizer, who added, "…know that come 2018, many others in your field will be coming to take from you, the right to be called the Best of SVG. This is what we hope will happen. We want to encourage excellence and without competition, complacency tends to set in".
Keizer said that in her opinion, people who do things well should be recognized, rewarded and held up as an example, while she also revealed that in the upcoming weeks and months, Searchlight will give winners several opportunities to say thanks.
She added also that during the campaign, feedback from the public spoke about categories that should be included and also noted that there was some measure of ambiguity and overlap in relation to some categories.
"Next year, new sub-categories will be introduced and some will be eliminated. We will also attempt to more clearly define each category on the ballot paper. So, come 2018, look for a bigger, better Best of SVG people's choice campaign. We have already begun planning," said Keizer.
During her presentation, Keizer thanked the sponsors "for their vital support" and the brand ambassadors "for giving our campaign and event some star power. Each of you, in your own right, are among the best of SVG".
Sponsors of the event included the SVG Community College, Floyd Patterson, Flow, National Lotteries Authority, Boom FM, Xtreme FM, Star FM, NBC Radio, OSV, Rebel Media, Searchlight, Vitamalt, First Caribbean International Bank (FCIB) and Guardsman (St Vincent) Ltd.
Brand ambassadors were Rodney Small, Hance John and Shaunelle McKenzie.
The Best of SVG Award was a collaboration between Rebel Media which was represented by Operations Director Karen Ferdinand.