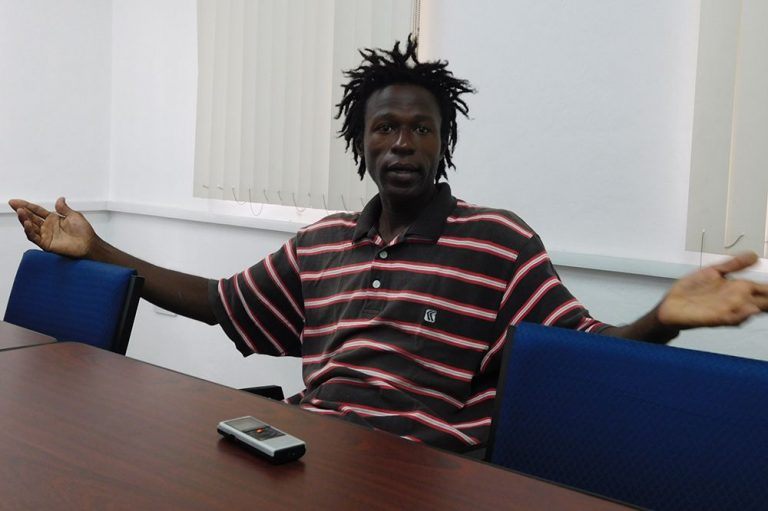 I want police to do a proper job – Ottley Hall man
Although police officers are expected to carry out their duties, they must do so in a professional manner.
Ottley Hall resident Rohan Barker shared this opinion on Tuesday, when he related to SEARCHLIGHT an incident that occurred on Thursday, April 13, 2017 that has left him in distress.
Barker, who lives a few yards away from where Shemeal Bowens, an Ottley Hall woman met her death in a hail of gunfire on Wednesday, April 12, said his woes began when officers were combing the scene and patrolling the area the following day.
The 32-year-old man said he was inside his house looking on when he heard footsteps in his yard.
"I hear footsteps, so I come outside. Soon as I come outside, the police coming up the steps and say 'Aye you yo mother c*** is you I want'."
Barker said he was caught off guard when the officer went on to repeat "Come, you get the gun, you get the gun, I want the effing gun, gimme de gun now na."
He identified the police officer as a member of the Criminal Investigations Department (CID) and explained to the officer that he doesn't own a gun.
"I say, man, the only thing I don't like wey alyo does do mon, alyo come like alyo disrespecting my house mon, because look how alyo walk inside the yard with alyo shoes and thing," Barker related to SEARCHLIGHT.
He said his response was met with death threats and the police officer further threatened to tell other residents that he has been leaking information to the police.
"That mean that they putting my life at risk and my mother life at risk. I don't like dem thing deh; is just me and mother alone live in Ottley Hall," Barked said.
"They start to call a whole set of name, some name from Bottom Town (Rose Place) me ain know them man dey. I don't lime down Bottom Town fuh say well I know."
Barker said he does plumbing and gardening for a living, so his neighbours were also surprised by the way he was treated.
"I cannot stop the police. I just wah they do they work properly nah, do the work properly and stop ill treat people like this, cause my life is at risk right now; my place is not fenced round.
"I with the police too anuh, cause I wish them could catch the killer, because nobody deserve to die like that."
Barker told SEARCHLIGHT that Ottley Hall is not a bad place, but some residents give the area a bad reputation. (AS)