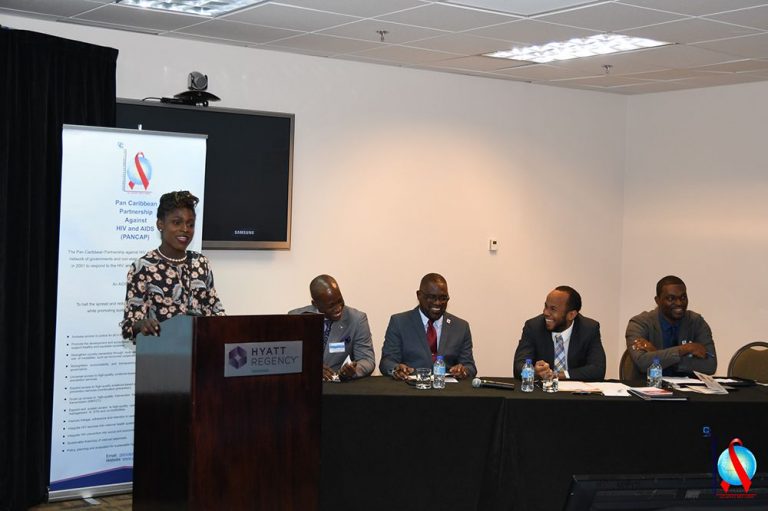 Calls being made for 'age of consent' to be reviewed
The Pan Caribbean Partnership against HIV and AIDS (PANCAP) Meeting of Caribbean Youth Leaders on Sexual and Reproductive Health and HIV/AIDS concluded with youth leaders advocating for a review of the age of consent, it not being aligned with the age when most young people are allowed to access sexual and reproductive health services.
This objective echoed similar sentiments by Luke Browne, Minister of Health, Wellness and the Environment, St Vincent and the Grenadines and chair of the Executive of Board of PANCAP, who delivered the keynote address at the opening ceremony on Friday, April 21.
"The disparity between the age of consent and access to sexual health services is a shame," stated Minister Browne during his address, "As young people, we must challenge policymakers to review this, since it has a direct impact on young people contracting HIV and AIDS."
During a group activity to create a framework for Youth Advocacy on Sexual and Reproductive Health, youth leaders stated that they were concerned that most young people are allowed to engage in sexual activity before they can legally access sexual and reproductive health services.
According to Raymoniya Lawrence, a representative of The Caribbean Forum for Liberation and Acceptance of Genders and Sexualities (CariFLAGS), "It is unacceptable that a young man or woman can legally engage in sexual activity, but not allowed to access critical sexual health services. This has a direct impact on preventing new HIV infections. We need our policymakers to join the conversation on this issue".
Youth leaders further agreed to explore opportunities to engage policymakers within their home countries and committed to utilizing their advocacy platforms and organizations to further the agenda for a change to the age of consent and accessing sexual health services.
Participants also voiced concerns about the lack of comprehensive sexual education programmes in Caribbean schools. In creating a framework for action, youth leaders proposed that policymakers should join in a conversation on the creation of sexual education programmes for schools across the region, as a tool to educate youth about sexual health issues and HIV and AIDS.
Dereck Springer, director of PANCAP, in his closing remarks, committed to seeking opportunities for youth leaders to engage policymakers within the region on the key objectives raised during the meeting. He commended the participants for contributing to the development of a framework which will outline the pivotal concerns of youth regarding sexual and reproductive health and HIV/AIDS and pledged the support of PANCAP in helping the participants to take their concerns to the highest level.
Funded by the Global Fund and PAHO, the meeting forms part of a wider intervention programme created by PANCAP for Youth Advocacy. Youth advocacy training, facilitating youth leaders' participation in high-level meetings to influence policy decisions affecting youth and the development of a regional youth advocacy network are other interventions slated for implementation, with the overarching aim being the creation of a well-informed youth advocacy body that can advance the concerns of young people on sexual and reproductive health services and HIV/AIDS.