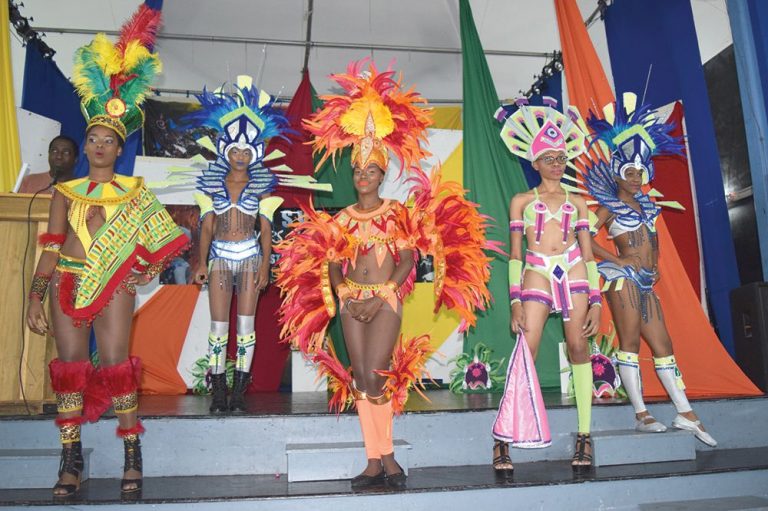 SVG Players International unveils its 2017 mas production
Five-time Band of the Year winners SVG Players International Mas and Cultural Organization presents for the 40th anniversary of Vincy Mas 2017, Star 2525 – "The Future is Now".
The 12 sections were unveiled last Tuesday at a launch ceremony that took place at the Peace Memorial Hall.
The band's artistic director and designer, Julian "Pelling" Pollard, in giving an overview of this year's production, noted that it is 'futuristic" in concept, stating that the portrayals depict what is likely to happen in the next 500 years.
However, Pollard cautioned, "We as humans can put things right,
but if we continue in the way in which we are living, these are the things which are going to happen to us."
The sections are therefore named "Contagious", "United States of Africa (USA)", "Laser Ladies", "Queen Ice", along with "Star Gate" and "Empire Strikes Back".
Other sections are "Celestial Star Child", "Scorched Heat", "Sky Net", "S.E.X.Y Bot", "Zombie Apocalypse" and "Electro Magnet Pulse".
Pollard confirmed that the band is staying within the trends of previous mas presentations. He projects another high standard of mas from his band, a hallmark of the organization over the years.
Pollard believes that the band's production this year can add to the Band of the Year titles won in 2006, 2007, 2008, 2009 and 2013.
He underscored that on each occasion that SVG Players International has won the Band of the Year title, it has secured the Junior Band of the Year
as well.
SVG Players Interna­tional, which made its debut on the local mas scene in 2001, apart from the five Band of the Year titles, has placed second on seven occasions and has so far copped six Junior Band of the Year titles, in addition to nine Sections of the Bands crowns.
Also counted among SVG Players International winnings for the past
16 years have been
some Junior and Senior Queen of the Bands triumphs. SVG Players International is aiming to net between 800 to 1,000 masqueraders for its 2017 presentation.