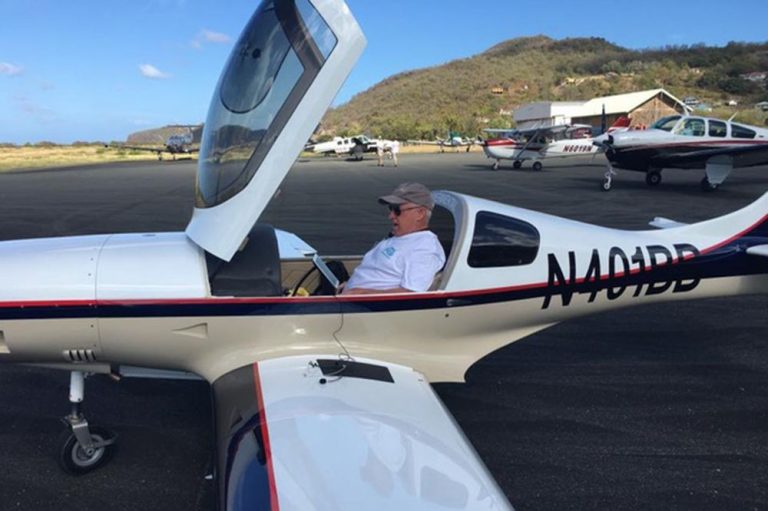 International Air Rally descends on Bequia
The JF Mitchell Airport saw the largest group of aircraft ever to arrive on Bequia at the same time on April 7, 2017, when the International Air Rally visited the Grenadine Island.
The Air Rally, which is a touring group of private aircraft, brought with them 17 small planes, including a mix of twin engine and single engine aircraft, two of which were home built and one helicopter – a Bell 2016 on floats.
The aircraft, which travelled from as far as Switzerland, with most flying in from Canada and the United States, prompted Air Traffic Control and airport services on Bequia to add extra staff to handle the arrivals, which were scheduled five minutes apart between 11:30 a.m. and 2 p.m. that day.
The delegation consisted of 48 pilots and crew, including two sponsored student pilots, who were all greeted in song by students from the Paget Farm Government School.
In an interview with SEARCHLIGHT, president of the International Air Rally Catherine Tobenas said that the main purpose of the tour was to bring pilots to visit Caribbean islands beyond The Bahamas.
"They always … call The Bahamas the Caribbean islands," she said jokingly.
For the past 20 years the rally visited Martinique, Antigua and Barbuda, Anguilla, St Martin, St Eustatius, St Croix, BVI, Dominican Republic, Grenada, among others and usually spend two days at the destination.
However, she decided to spend three days on Bequia because of its beauty.
"A lot of pilots would like to come here and enjoy the island and we believe that this airport is a good opportunity to promote the island to pilots."
In an interview with SEARCHLIGHT, Captain Ron "Junya" Montano, who invited the delegation to Bequia, said that the rally was looking for a southern base of operations, so he convinced them to try Bequia.
Captain Montano, a pilot of over 30 years, who owns a Cessna 335 twin engine turboprop plane, said the rally members who came on their private aircraft represented a huge investment in Bequia.
"They spent quite a bit of money in accommodations, restaurants, entertainment and transportation and side trips," he added.
"We really pulled off a significant event here for Bequia and St Vincent, because these people love us they are very upmarket people; they come from the top levels of US and Canadian and European economic society and they represent huge potential investments and they spent a lot of money in Bequia."
Kara Randall, who is also an aviation enthusiast and pilot in training, said she was excited when the rally decided to come to Bequia, because she usually looks for opportunities to support the Grenadine island.
"They inquired, could we come? And that's when Ron stepped in and said absolutely, we've never had this before, but come here, we would make it happen for you."
Thomas Carlton assisted Randall and together they coordinated aviation operations, ground transportation and accommodations and the customs and immigration at the airport, as well as air traffic control.
Bequia is the only island that was a part of the rally's tour this year that the group has decided to return to next year.(AS)