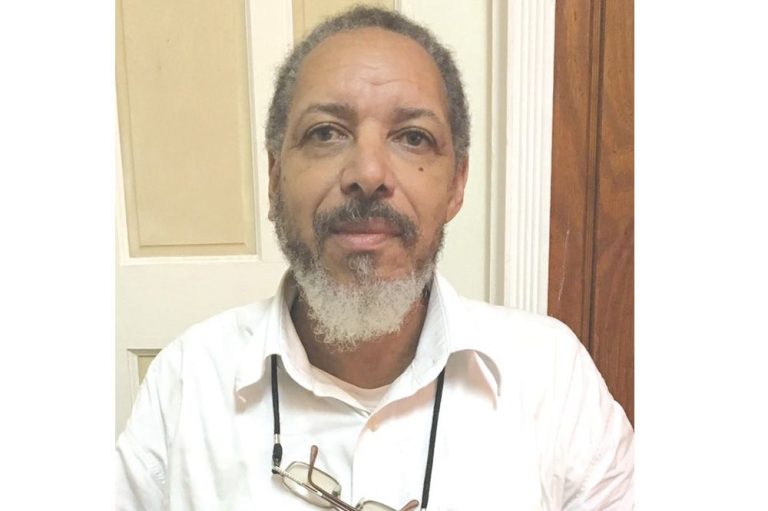 Theobalds to present play 'The Bar' at Peace Memorial Hall
"The Bar," a play written by Claude Anthony, was launched on Monday, as part of Library Week.
The literary work is the second publication by Anthony Theobalds under his pen name Claude Anthony.
Theobalds, director of Culture in St Vincent and the Grenadines, said his pen name is a salute to his father, Claude Theobalds.
In her review of the play as a literary work, director of Library Services Michelle King-Campbell described the plot as perhaps reflective of the social realities of SVG, where poverty causes some persons to break their personal moral code, as they seek to "put food on their table".
King-Campbell said the mix of creole and standard English used by the characters was highlighted as a significant factor of setting the characters and the relationships between them. She indicated also that there was a theme of the exploitation of workers, particularly those who are not very literate and noted that there are several levels of puns and language twists in the dialogue.
King-Campbell also indicated that having experienced the short excerpt read by two actors, she hoped that the play would be produced for stage.
Theobalds was trained in theatre at the University of Ottawa and involved in community theatre in Ottawa. On his return to SVG, he was a member of Naked Roots and has been active in several area of the arts as a trainer, a technician, an actor and administrator.
Theobalds, in his response, indicated that the play is in rehearsals and that it would be staged on April 28, 29 and 30 at the Peace Memorial Hall.
A few copies of the play were handed over to the Public Library. However, Theobalds indicated that the book would not be offered for sale directly in SVG, so persons should seek to see the play when presented at Peace Memorial Hall at end of April. He said arrangements were being made for it to be available on Amazon from around mid May 2017.
The play was published by Marc Erdrich of Hobo Jungle Press.