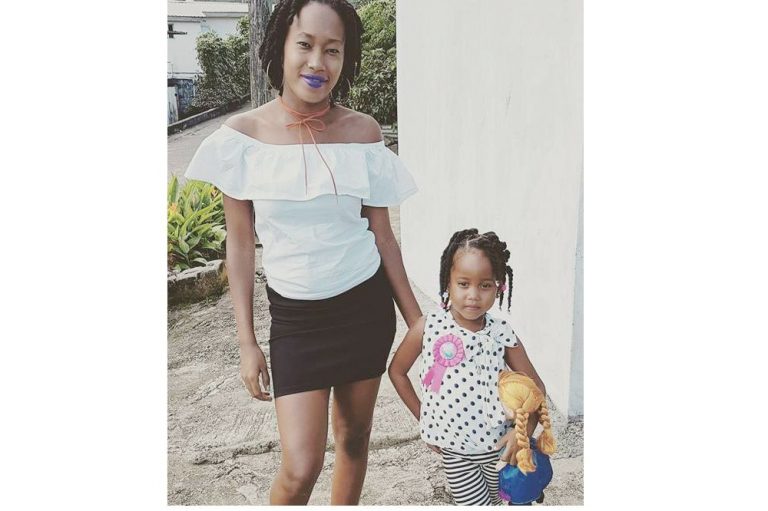 Mother thankful for financial assistance from Jamaican cricketer
Owia resident Shellicia Small has described the financial assistance she is receiving from her idol, Jamaican cricketer Marlon Samuels, for medical help for her four-year-old daughter as a weight being lifted off her shoulders.
Small's daughter, Shade Lewis, was diagnosed with hepatomegaly when she was a little over one year old.
Hepatomegaly is the condition of having an enlarged liver. It is a non-specific medical sign having many causes, which can broadly be broken down into infection, hepatic tumours, or metabolic disorder. Often, hepatomegaly will present as an abdominal mass.
In an interview with SEARCHLIGHT yesterday, Small, 26, said that she noticed that Shade's stomach was getting high and a strange vein appeared there and she also began getting reddish spots in the palms of her hands.
"Right now she's living off an injection. She used to take it every month and then they increase it to once per week. And now they are saying they going to increase it again to twice a week," Small disclosed.
The single mother further disclosed that Shade's medical bills add up to EC$500 every three months.
Small, who is popularly known on Facebook as 'Barbie Slimz Small', shared her story on social media last Wednesday afternoon.
She posted: "So last night, Marlon Samuels went live on IG. Well everyone's knows how much I love him. Anyways I log on and start viewing his Live and then he had some money saying he's about to donate it to someone who really needs it. I was just there reading ppl comments as to why they want the money and what they are goin to do with it (some said that they wanted it for tuition fee, groceries, help with their studies etc).. He then stated that he's not just giving it to someone without a good reason. I was about the 3rd person to comment b4 he make up his mind and while he was reading people's issue he was also taking down names so he can DM them after. Anyways I wrote I need help with my daughter's medical bills.
"When he read it he was like YES I think I saw the one who I want to help especially when it comes to kids and he ask his manager to write down my name etc so they can contact me and before the night was over, he DM me…. Ain't God good. Out of that 300+ persons who viewed n comment. He choose me."
According to Small, the cricketer then made the donation the following day, March 29, which would cover the next six months of her daughter's medical expenses – her next two doctor visits.
While relating her experience to SEARCHLIGHT, Small said, "It felt really good, but I was hoping that he was serious at the same time, because he had the money in his hands and was laughing etc, but after I was viewing for at least five minutes, I realized he was really serious about helping someone. After he DM the same night and ask for some information, I felt like a weight has been lifted off my shoulders and God has answered my prayers."
Small added that the donation is "a big ease up" for her, because she has been on her own since Shade was born.(AS)