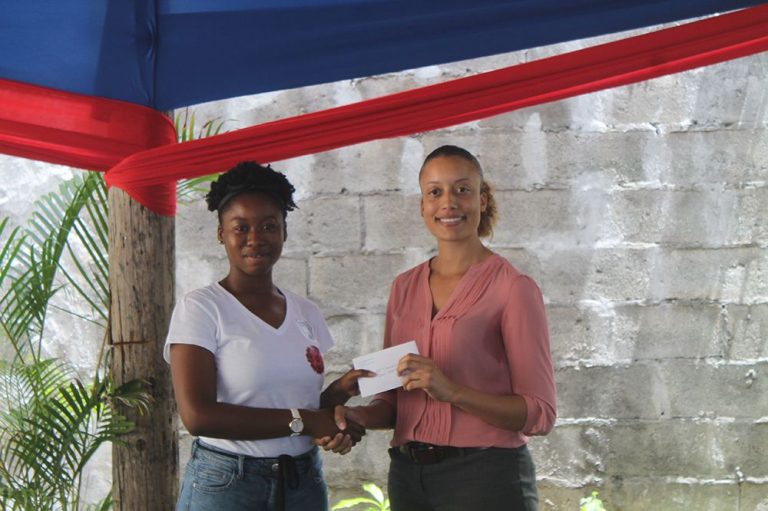 GHSYL launches project 'Finding 52'
As part of their 2017 Young Leaders programme, the St Vincent Girls' High School (GHS) have launched a project called 'Finding 52'.
During the launch of the school's Young Leaders programme on Tuesday, Young Leader Shania McKenzie explained that the 'Finding 52' campaign seeks to encourage 52 entities (families, corporations, businesses, individuals and the general public) to each donate $400 to supply the soup kitchen with the resources to feed 180 persons each Sunday for the 52 weeks in an entire year.
"Finding 52 is our chance to express love and compassion to our fellow brothers and sisters…."
During the launch, which took place at the Roman Catholic Fishes and Loaves Soup Kitchen at Rose Place, McKenzie stated that there are individuals in society who are not fortunate enough to eat a proper meal on a daily basis or even maintain a proper diet.
"There are those who can't even receive a slice of bread. That's why we, the GHS Young Leaders 2017, established this meaningful campaign, in which your donation can go a long way in ensuring that at least on Sundays, someone can enjoy a warm meal," she said.
During the official launch, nine sponsors were secured from Chill Spot Bar and Grill, Q-Care, Singer, Skinny Fabulous, and Jankie Glass, which leaves the GHS Young Leaders on the look-out for 43 more sponsors. Lunch was provided for the Soup Kitchen on the launch day, compliments of Chill Spot Bar and Grill, and was served by the GHS Young Leaders themselves.
This project, among others, was presented under the school's themes, which focus on the Health and Wellness, Religious, Cultural, Social and Environmental impact of volunteerism. These themes have paved the way for the GHS Young Leaders to think about other meaningful projects that can positively influence the lives of the less fortunate. Some of the other projects to come include Breakfast with the Homeless, an Easter Vacation Bible School, a cultural exchange, PositiviTEA with the elderly and Mortar Makeover.