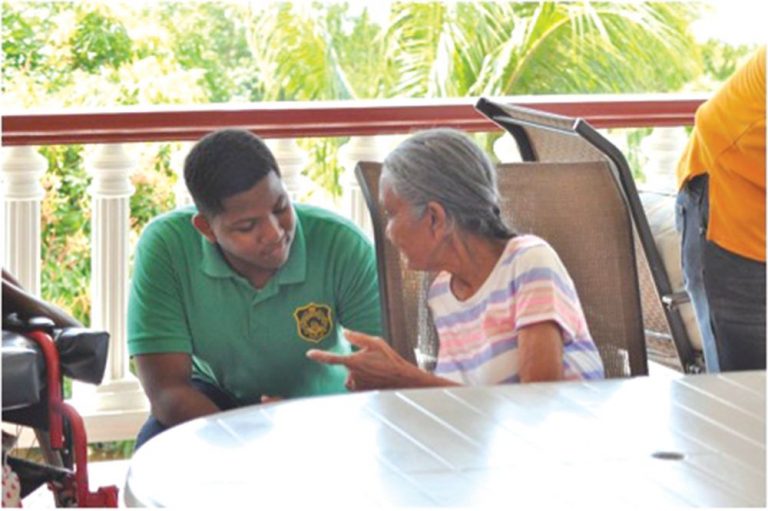 SVGS Young Leaders visit Liberty Lodge, homes for elderly
The St Vincent Grammar School's 2017 Young Leaders visited the Liberty Lodge Boys' Training Centre and two homes for the elderly (Garden of Eden and Thompson Home) on Saturday, March 11, 2017. The Young Leaders' mission was to spend time with the elderly and to provide guidance to boys residing at Liberty Lodge.
An introductory and devotional session was done upon the arrival of the Young Leaders at the Thompson Home. They sang choruses, prayed and read a few scripture verses. The SVGS Young Leaders partnered with the El Grupo Amistad, which provided musical entertainment, while the students talked and danced with the residents of the Thompson Home. The students and members of the Thompson Home tremendously enjoyed the visit.
The visit to the Garden of Eden was divided into two segments – a visit to the male section and a visit to the female section.
At the female section, the Young Leaders introduced themselves and presented the national theme 'I am WE; Volunteering for IMPACT,' as well as the school's subtheme, 'Volunteering Together – an impact lasting forever.' A scripture reading was done and they proceeded to interact with the female residents.
At the male section, the Young Leaders introduced themselves, as well as the themes. They then sang choruses and did scripture readings.
After taking devotions, the boys socialized with the elderly males. Mr Horne, one of the residents of the elderly home, gave some advice to the young leaders, stating,
"Things have changed, but remember the roots you came from."
Upon arrival at the Liberty Lodge, the SVGS Young Leaders introduced themselves to management and the residents. After introductions, the Liberty Lodge boys, along with the Young Leaders, began clearing flower beds to plant crops. After the clearing, they sowed seeds such as: celery, cucumbers and lettuce. After planting crops, the young leaders played a game of football with the Liberty Lodge boys and later they enjoyed a meal together. After eating, some indulged in a game of dominoes, while others socialized.
The residents of the Thompson Home, Garden of Eden and the Liberty Lodge all enjoyed the visit from the SVGS Young Leaders.