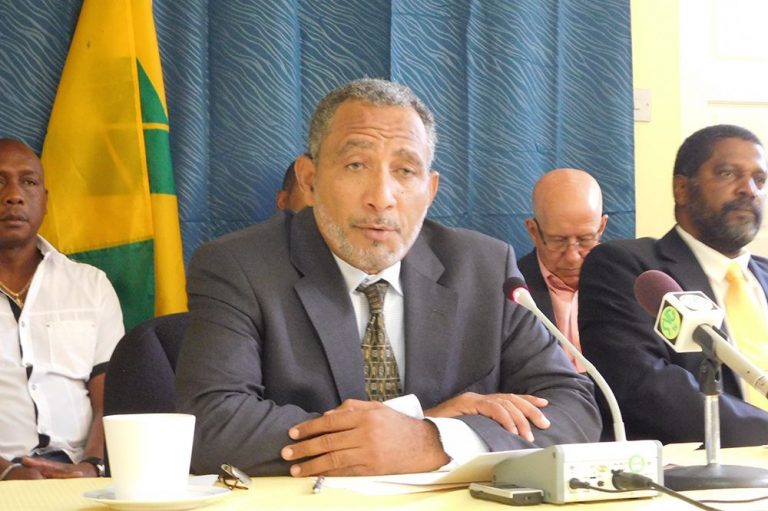 Friday confident Appeals' Court will grant appeal
An appeal in relation to the ruling of the High Court in the election petitions matter filed by the Opposition New Democratic Party (NDP) will be heard next Tuesday, March 7, 2017 in St Lucia.
The petitions were filed by the NDP candidates for Central Leeward and North Windward, Benjamin Exeter and Lauron Baptiste respectively, following the December 2015 elections, and seek to have the results in those constituencies declared null and void.
The petitioners claim that there were widespread irregularities in the poll, which significantly affected the quality of the election.
At a press conference on Wednesday, president of the NDP Dr Godwin Friday said he will attend the sitting of the Appeals' Court in St Lucia, along with Exeter, Baptiste and their lawyers.
The respondents in the case include supervisor of elections Sylvia Findlay-Scrubb, Member of Parliament for Central Leeward Louis Straker, Member of Parliament for North Windward Montgomery Daniel and the Attorney-General Judith Jones-Morgan.
According to lawyers for the respondents, the applications which were filed by the NDP petitioners did not meet the requirements of section 58(1) (b) and (c) of the Representation of the People Act and Rule of the House of Assembly Act (Election Petition Rules) 2014, and on those grounds, they applied for them to be struck out.
And on June 16, 2016, Justice Brian Cottle upheld the application of the respondents and struck out the petitions on the grounds that the petitioners were obligated to provide sureties and this was not done.
At Wednesday's press conference, Friday said that the petitioners' case is strong and he believes that the court will grant their appeal and overturn Justice Cottle's decision.
"Should the court grant the appeal, the petitions will then be able to proceed to a hearing on their merits before a judge in the High Court. We believe that, based on the law and the evidence in the cases, our candidates, Mr Exeter and Mr Bap­tiste, will win their legal battle," Friday stated.
He stated that the NDP is in full support of petitioners and their efforts to bring justice to the residents of Central Leeward and North Windward.
"Therefore, it is vitally important that it is pursued resolutely and be decided by the court without further delay. It has been a long and frustrating battle for justice, but we will see it through to the end and by the grace of God, Mr Exeter and Mr Baptiste will prevail and we will have fresh elections in this country." (CM)