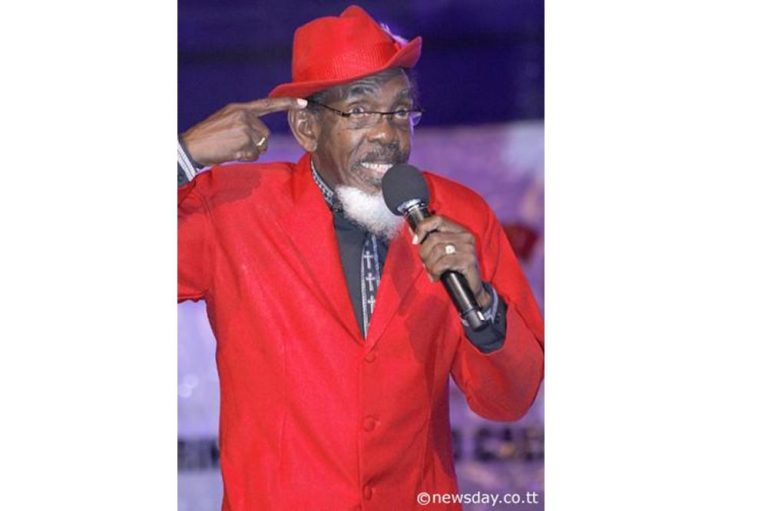 'Chalkie' sets new calypso record
by Renwick Rose
It took a tremendous effort by perennial Calypso Monarch of Trinidad and Tobago, the Mighty Chalkdust (Dr Hollis Liverpool), toward off an unprecedented female assault on the competition on Sunday night in a
fantastic and extremely competitive contest for the 2017 crown in Trinidad and Tobago. Three women, Karen Asche, Heather McIntosh and Terri Lyons, finished behind him, in that order, snapping at the heels of the veteran calypsonian.
'Chalkie' not only fended off the female threat (nine of the 17 finalists), he also beat a field containing no fewer than six former monarchs, three of them multiple winners. In the process the calypso icon set a new record for multiple titles, taking his tally to nine, one more than the man considered to be the greatest of them all, the Mighty Sparrow. Entering this year, Chalkdust and Sparrow were tied on eight apiece, Sparrow winning his first over six decades ago in 1956 and his last 25 years ago, in 1992. Chalkdust was first crowned in 1976 and he has now won at least one crown in every decade since.
The 'one-song' competition, (is our CDC and the Calysonians Association taking note?), was of a particularly high standard. Several of the renditions from persons outside the top four could have been in consideration for a winning place in other such competitions in previous years. Both in content and delivery, the trio who finished behind Chalkdust was outstanding and even those who finished lower down, including Vincentian-born Fya Empress, put up a good show.
But Chalkdust is in the very top drawer where calypsonians are concerned, and with luck giving him the final spot in the list of competitors, he took full advantage to stamp his imposing presence and walk away with the title of Calypso Monarch 2017. He thoroughly deserved his hard-fought victory, taking on conservative Hinduism in the battle to stop child marriages, a battle now before the Parliament in his country.
Vincentians with some knowledge of the history of our own Calypso Monarch battles will be intrigued to know that Chalkdust's mathematical approach to the subject, ("Learn from Arithmetic" was the title of his song), mirrors an approach taken here 41 years ago by the 1976 Monarch, Lifeboy. 'Chalkie' did a clever play on words and mathematical formulas to demonstrate that "75 can't go into 14", a pun on old men seeking child brides. A real classic, this one.
Caribbean females can, however, feel proud of the presentations of their calypso sisters in the competition, demonstrating not only calypso talent, but deep social consciousness. What a way to move into International Women's Day next week!