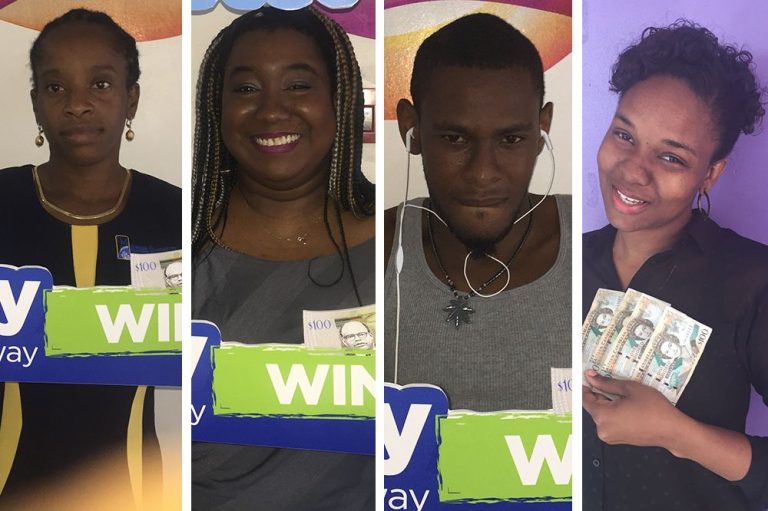 Flow rewards four in 'Money every day giveaway' promotion
Three women and one man are the latest winners in the EC$400 being offered by FLOW and the company's "Money every day giveaway" promotion.
In winners' row this time around are Ralson DaBreo of Diamonds Village, Merlene Quammie of Belmont, Rachel Phillips of Union Island and Belinda Samuel of Arnos Vale.
DaBreo said that he did not know about the promotion and only learnt about it when he was called live on air from Hot 97.1 FM and told that he had won.
"It was unexpected, but the excitement was good. I was at my girlfriend and I recognized the voice of the caller (Pitbull) and number of the station (Hot 97.1 FM) and when the promotion was explained to me, it was a good feeling," said DaBreo, whose post-paid sign up entered him in the draw for the money.
The joiner described FLOW's service as the best service in the country and said that he will continue using it.
Quammie said that this the first time that she has ever won anything from the telecommunications company and she is pleased with the cash. She said that she won just by topping up her phone and she will continue being a FLOW customer.
Phillips described the call telling her that she had won the money as "surprising," as she had taken part in other promotions by the company and had never won before.
Samuel commented, "it was good it was very nice to get some money back. I only texted twice."
She said that she has been a customer since FLOW was called Cable and Wireless and she plans to stick with the company.
The FLOW money every day giveaway promotion was launched on January 18 and sees persons being entered in a random draw to win EC$400 when they top up $15 or more, activate a combo plan, sign up to a new post-paid Hero plan or text "FLOW Money to "6263".
Winners are being called live during FLOW hour on Hot 97.1 FM and informed of their good fortunes by host Rochard "Pitbull" Ballah.