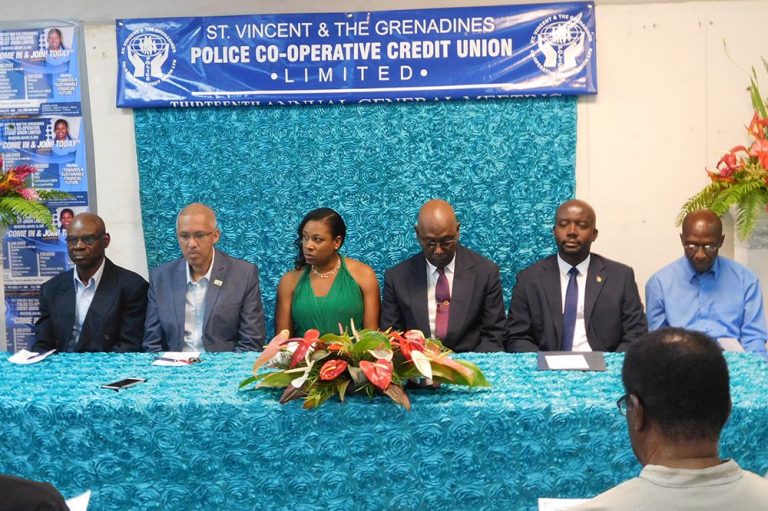 PCCU set to make its mark on SVG
Hard work, pain, frustration and determination were all stepping-stones for the St Vincent and the Grenadines Police Cooperative Credit Union (SVGPCCU).
With the objective becoming the premier financial institution in St Vincent and the Grenadines, the PCCU opened its complex on Bay Street last Saturday, January 28, 2017 with a ribbon cutting ceremony.
With this move, the 14-year-old organization can boast of moving from a small office of about 400 square feet in the Central Police Station, with two staff members, to owning its own building with seven members on staff.
Former Commissioner of Police and the PCCU's founding father, William Harry's facial expressions at the ceremony spoke of his pride, as he told those present how honoured he was to speak.
"Your credit union is now poised for a take-off that would be propelled by the way you share your blessings," he added.
Harry noted that the PCCU initially had a membership of 330, compared to the 2,164 members now. The credit union also has assets of over $11 million; compared to the start up $515,000.
During remarks, the former COP congratulated management and staff of the credit union and urged both staff and members to cherish the organization.
With her pride obvious in her voice, PCCU manager Seymonde Mulcaire said when she joined the credit union's two-member staff on October 15, 2003, she had one goal, which was "to grow with the organization."
Speaking at the ceremony, Mulcaire disclosed that when she became manager in 2014, another goal of hers was to give the PCCU its own home, which was achieved in 2016, when the decision was made to purchase the building from RC Enterprises.
During congratulatory remarks, director of the Caribbean Confederation of Credit Unions (CCCU)/ CEO of GECCU Lennox Bowman described the PCCU as a very disciplined and dependable outfit.
"When they make a commitment in a meeting, they are one of the first to uphold that commitment," said Bowman.
He, however, noted that with their new headquarters, the PCCU must endeavour to achieve popular awareness of the credit union and increase the commitment of staff and volunteers.
Bowman added that credit unions play a part in the economic, social, cultural and educational development of SVG and that sector carries the burden for the lower class.
The opening ceremony heard remarks from president of the St Vincent and the Grenadines Cooperative League Dwight Lewis, president of the PCCU Junior Simmons, registrar of Cooperatives Cecil Jackson and Prime Minister and Minister of Finance Dr Ralph Gonsalves.
The ceremony saw an audience of credit union enthusiasts, PCCU staff and members of the cooperative who were also offered a tour of the new building. (AS)