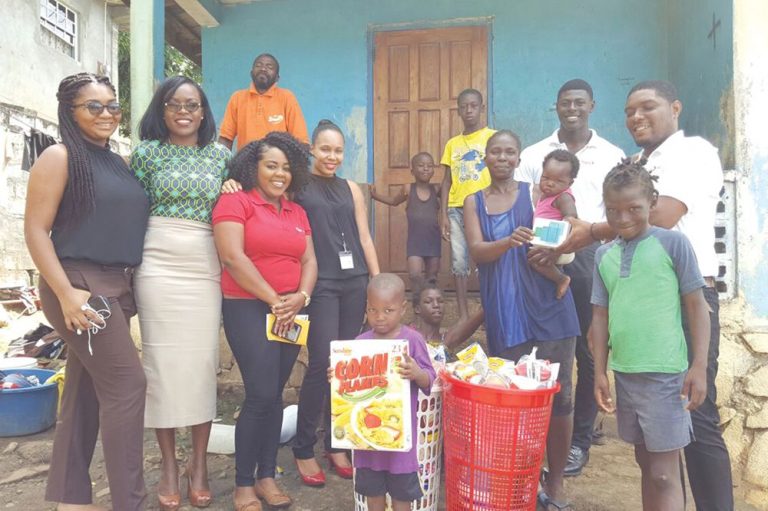 Lowmans Leeward family grateful for Digicel help
The Edwards family of Lowmans Leeward was all smiles this morning when they were pleasantly surprised and presented with two large baskets of groceries, household and body products, valued at over EC$500, all compliments the staff and management of Digicel SVG.
The Edwards were identified for the generous donation from the telecommunications company after Digicel's Direct Sales Team – Feet On The Street (FOTS) came across the family just about a week ago, while carrying out their daily sales on the leeward side of the island.
Mischka Lewis, FOTS team leader and the lone female on team, said she was extremely hurt and touched when they came across the family, specifically three children all under the age of seven, washing, cleaning and carrying out household chores on a day when they should have been at school. Lewis added that what was even more disheartening was the fact that no adult figure was visibly present.
Lewis explained that having met the family, on that day her group made a pledge to offer as much immediate help possible to this family, specifically to the young children.
Meanwhile, when the Digicel team visited the family's home in Lowmans Leeward on Wednesday, February 1, 2017, one of the three adults residing there, Norishine Edwards, thanked Digicel very much for the kind donation. Edwards said with a household of 15 occupants and only three adults with no stable job and fixed income, it is often a challenge providing food and even sending the children to school.
Edwards, the mother of eight, said since the start of the new school term her children have not been able to return to the classrooms, because she is unable to purchase the necessary books and supplies the kids need.
Additionally, a Digicel handset was presented to the family, having learnt that there was no direct means of contacting and communicating with persons in or outside the home.