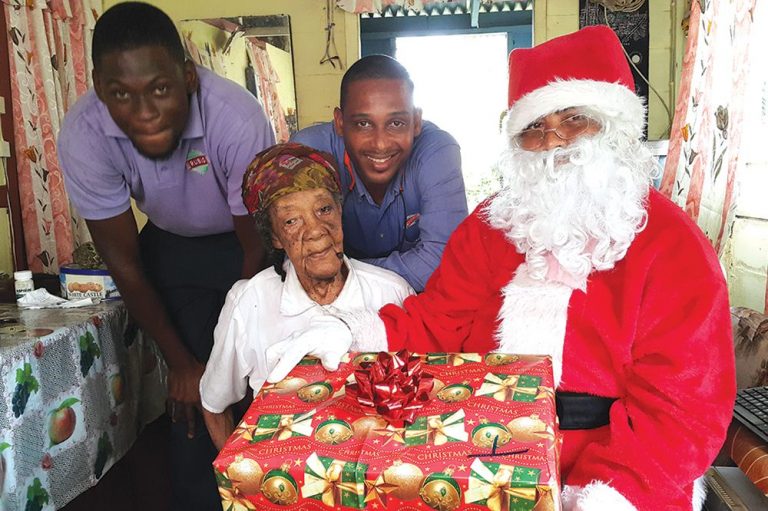 Rubis acts of kindness bring joy to elderly around SVG
It has been said that the elderly must be looked after, for it is they who constructed the many pathways present generations trod. It is with such in mind that leading petroleum company RUBIS paid a number of visits to the elderly and shut-in on Thursday, December 22, 2016.{{more}}
The recipients of the food baskets were recommended by residents residing in the respective communities.
The Rubis team visited elderly persons at Vermont, Dubois, Redemption Sharpes, Richland Park, Penniston and Penniston #8 Village, delivering food baskets and bringing some measure of cheer to those individuals.
This initiative from Rubis came in for some very high praise from residents. Ms Baker from Vermont said that this gesture by gas company Rubis is greatly appreciated, as it served to connect with the poor and elderly, especially those who are marginalized.
She also mentioned that this act of kindness will certainly make a difference to their lives, especially around this time of the year, as many are in need of help.
One individual who was most delighted was 99-year-old Violet Cumberbatch of Redemption Sharpes. Her delight manifested itself when Santa was introduced to her. She told the Rubis team how appreciative and overwhelmed she was by the presence of Santa.
She said in all of her life on earth she had heard about Santa growing up as a little girl, had seen him on television, but never once did she ever envision being paid a visit by Santa.
She hugged the white-bearded red-clothed Santa, who hollered his trademark "Ho, ho, ho," much to Ms Cumberbatch's delight.
Norman Myers of Penniston #8 Village said he was very happy for the visit, and reminded the team that it is not the first time that Rubis has visited him. The partially blind community elder said "You guys came last year, the guys from the gas company. I thank you for taking time off to visit me."
Bangi Frederick, also of Penniston, was another community elder who was visited by the Rubis team and certain issues surrounding her living conditions moved them. The approximately 80-year-old explained to the team her experiences and according to country representative Edwards, "we will be looking at what can be done to make life better for her."
According to Elroy Edwards, "giving and sharing is who we are and what we do at Rubis. We have been doing this for a number of years and will continue to do so. We will continue to engage and connect with the communities, as it has become part of our annual calendar of activities."
Edwards also added there is no greater joy than to see the reaction from recipients of the various communities and the children smiling after receiving their treat from Santa.
In addition to the visits to the elderly, the Rubis team also shared out candy packs, specially packaged for the kids in the various communities, who were delighted to be presented with their own gift packs by Santa.