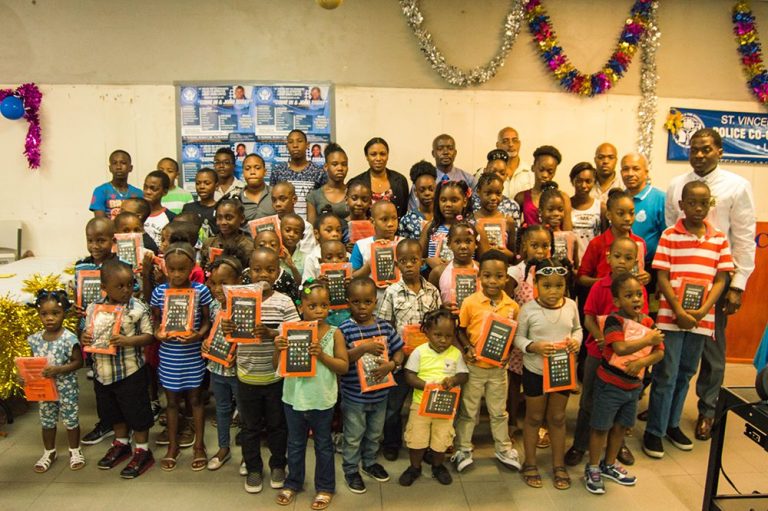 129 PCCU junior savers receive Amazon Fire Tablets
One hundred and twenty nine students received Amazon Fire Tablets, having completed last year's Police Co-operative Credit Union's (PCCU) Junior Savers Weekly Challenge.{{more}}
The challenge, which commenced on January 2, 2016 began with 202 savers however, only 129 saw the challenge through to the end.
Savers were required to save one dollar more each week for 52 weeks in the year or forfeit the challenge and be automatically expelled. At the end, each child would have saved no less than $378.
Speaking at the challenge's award ceremony on December 30, 2016, President of the PCCU Ltd Junior Simmons described the challenge as an innovative, appealing and rewarding initiative for the shared benefit of the Junior Savers and the PCCU.
"I must let you know that this program has received very good reviews from persons who have heard about it," he added.
"This is how appealing the Police Credit Union Junior Savers Challenge has become; we refer to it as a "niche" programme, because there is absolutely no other like it throughout St Vincent and the Grenadines."
According to the PCCU president, the programme was first launched on January 2, 2014 when the Credit Union handed out a total of 38 tablets and in 2015, 89 tablets were distributed.
"This programme is definitely growing from strength to strength," said Simmons.
Additionally, he urged savers to remember to save, adding that the money they save would help to chart their future.
"You do not have to spend all of your break or lunch money. If you save some, you would be surprised at how much money you would have accumulated overtime."
Simmons informed savers that if they continue the challenge for 10 years, they would save close to $14,000, which can aid in primary and secondary school expenses.
"I urge you to use your tablets wisely; use them for reasons that would benefit you in a productive way. Do not use them to do things that are bad for you," he added.
During a presentation at the ceremony, Petrus Gumbs, the director of the Science Technology Engineering and Mathematics (STEM) program urged students to be responsible digital citizens.
Gumbs, who is also the head of the Information Technology department in St Martin's Secondary School informed savers that their device could either propel them academically or harm them.
Further, he urged parents to be vigilant in their supervision and guidance so that students use the devices for their advancement and nothing else. (AS)