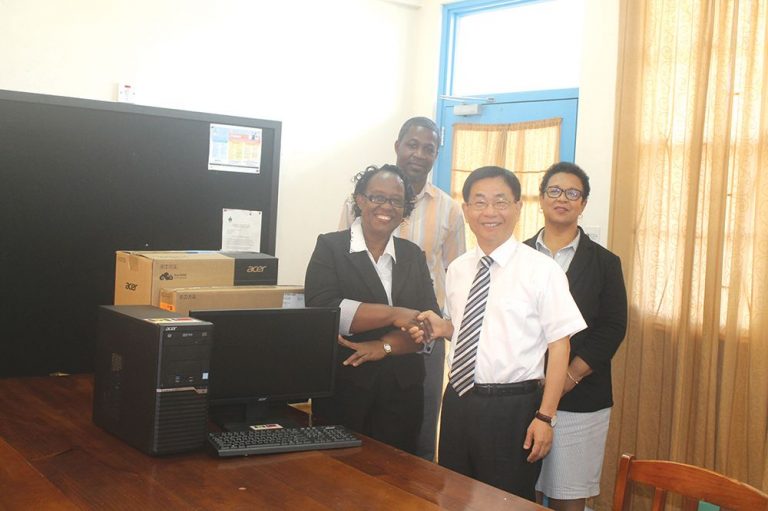 UWI Open Campus receives computers from Taiwan
The Taiwanese Embassy recently donated two desktop computers to the University of the West Indies (UWI) Open Campus.{{more}}
Speaking at the handing over ceremony on Wednesday, January 4, Taiwanese Ambassador Baushuan Ger noted that it was a great pleasure to again assist the university, after previously donating two laptops in 2015.
He stated that while there are over 60 students at universities in Taiwan and the government of Taiwan has given local scholarships to Vincentians from the primary to the tertiary level, his country still looks for new ways to give back to the education system in St Vincent and the Grenadines.
"…We still find that we should do more to the students here in this country because education is very important," Ger said.
He stated that he hopes the students can better utilize the resources offered by the universities.
Local head of the UWI Open Campus Deborah Dalrymple stated that the university is always appreciative of the donations made by the Taiwanese Embassy.
Dalrymple noted that in 2015, while they had not made any formal request, after a visit to the campus in 2015, Ambassador Ger, hearing of the problems they had in the library, donated two laptops.
"We have received two laptops from the Embassy and the students have been making such good use of them."
The campus head said that she was elated when she got the phone call about the donations of the desktops, because it meant that their operations could become more formalized.
"The University is constantly trying to upgrade itself, and to have what resources the universities have regionally, to be accessible locally. So this is really…quite a big step to for us…," she said.(CM)