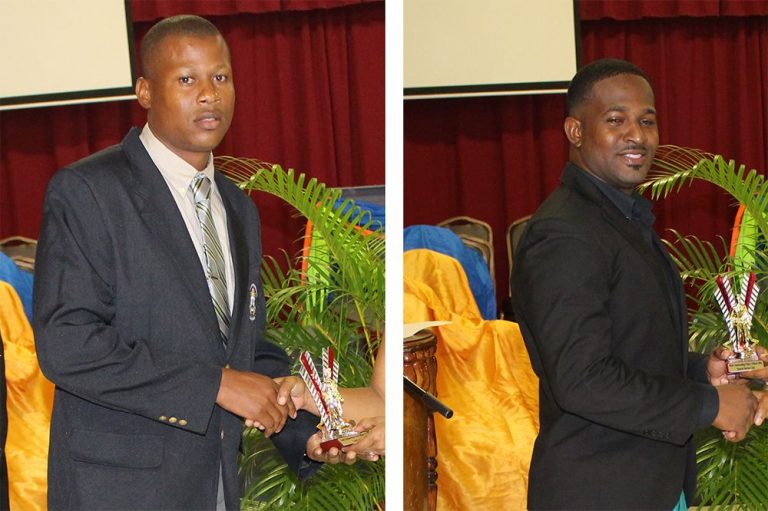 Scott, May cop highest police awards
Police Constables 198 Chislon Scott and 130 Carolyn May have been awarded the coveted titles of Policeman and Policewoman of the Year, respectively, at an event staged by the Royal St Vincent and the Grenadines Police Force, in conjunction with the Police Welfare Association.{{more}}
Scott said at the recent Police Awards ceremony that he was grateful for being recognized for the service he renders on behalf of the Royal St Vincent and the Grenadines Police Force.
He said he was sitting in the audience when he heard his name being called for the prestigious award. "I was quite surprised!" said Scott, who was enlisted on September 22, 2011.
Already he is challenging himself to work harder than he did in 2016.
"I feel I have to do much better than last year. I am looking forward to taking the standard to a new level," said Scott.
May was unable to attend the ceremony held at Russell's Auditorium, due to unforeseen circumstances.
Leading seaman Marlon Simon, who has been a member of the Royal St Vincent and the Grenadines Police Force, also came in for high praises when he was awarded the coveted title of Coastguard Officer of the Year.
He said he was surprised when he received the award. He stated that he works hard consistently.
"My advice is that you should always try to provide a service more than what you are paid for," said Simon. He said he is using the opportunity to thank his mother, Gillian Simon, and petty officers Durrant and Francis.
The other areas of awards are: Stations, Sandy Bay – PC 130 Carolyn May; Georgetown – PC 307 Shem Nanton; Colonarie – PC 960 Rohan Cobbler; Biabou – PC 425 Sedan Searles; Mesopotamia – PC 344 Mattis Humphrey; Stubbs – PC 720 Delroy R Williams; Calliaqua – PC 682 Lennon Toppins; Questelles – PC 926 Alfred Pierre; Vermont – Cpl 328 May; Layou – PC 802 Samuel; Barrouallie – PC 684 Williams; Spring Village – PC 759 James; Chateaubelair – PC 34 Laro Adams; Mustique – PC 827 Cleveland Stephens and Union Island – PC 733 Rohan Holder.
The Divisional and District Police Officer of the year awards went to Central – PC 743 Kelorn John; Eastern – PC 130 Carolyn May; Western – PC 34 Laro Adams and South Central – PC 682 Lennon Topping.
The Sports Award for athletics went to AB Hamilton and cricket went to PC Dember.
Detective Awards went to CID – PC 134 Hadley Ballantyne; Special Branch – PC 121 Ronnick Douglas and Drug Squad – PC 219 Courtney Browne.
The officers who received Operational Awards are Fire Department – Sgt 324 Mark Ellis; Special Service Unit – PC 198 Chislon Scott; Coastguard – Leading Seaman Marlon Simon; Traffic Department – PC 672 Kyman Hall; Rapid Response Unit – PC 192 Douglas Caesar; Telecommunication – PC 501 James; and Band – Cpl 652 Omaro Thomas.
Commissioner's Award for Bravery went to PO Holder.
Headquarters Award went to CPS (Beat and Patrol) – PC 882 Shirlyn Gonsalves; Prime Minister's Detail – PC 731 Eugene Henry; Prosecution Department – PC 817 Aliston Stapleton; Driver of the Year – Cpl 368 Kiel Rodgers and Traffic Warden – Betheria Fisher. The Dare award was presented to PC 832 Nadisha Browne; Headquarters – PC 184 Levon Murray; and Port – PC 340 Clint Dasouza.
Retirees recognized for their years of service are Eric Browne (SOP) 33 years, 2 months; Glenford Gregg (ASP) 34 years, 11 months; Sydney James (ASP) 35 years, 6 months; Bernard Haynes (Insp) 36 years, 5 months; Delano Peters (S/Sgt) 35 years, 3 months; Anthony Humphrey (ASP) 35 years; Aaron Francois (CPO) 33 years, 4 months; Fitzborne Chambers (CPO) 20 years, 10 months and Lester James (PC) 7 years, 3 months.
Other Welfare Special Awards were presented to Wendy Bynoe, in recognition of her contribution to the RSVGP Queen Pageant; Cpl 9 Browne, in recognition for being the longest serving executive member of the Police Welfare Association; Sgt 111 Robertson, past chairman of the Police Welfare Association; Jacqueline Joseph, in recognition of her contribution to the RSVGPF 2016 and Adams Electrical.(Police Public Relations)