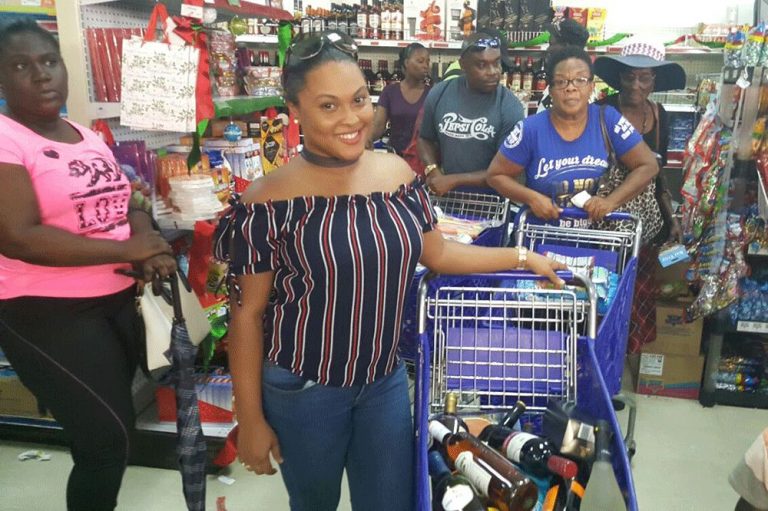 More customers win big with DIGICEL's 'GetGifted' promotion
Last Friday, December 23, saw the total number of Vincentians who won shopping sprees for the 2016 Christmas seasons compliments Digicel SVG, increasing to 20.
The latest and final batch of weekly winners in the Digicel GetGifted campaign are: Kate Thomas of Union Island, Romancia Robertson of Twenty Hill, Magdalin Daniel of Fairhall, Alge Lewis of Calder and Shenelle Duncan of Bequia.
The five lucky Digicel customers were randomly selected and named winners after topping up $15 and texting the serial number found at the back of their scratch cards to the short code 1130. The fourth and final group of weekly winners were all granted a two-minute shopping spree at Bonadie's Supermarket #2, amounting to over EC$2,000.
The very elated Digicel customers, some of whom are not new to winning big with Digicel said the telecommunications company's commitment to rewarding and giving back to its customers is among the key reasons why they have remained a part of the Digicel family for so many years. The winners added that they could not have asked for a better Christmas gift, but to be allowed to carry out their Christmas shopping totally free of cost to them.
Digicel's marketing manager Danielle Cupid congratulated all the winners, adding that Digicel stayed true to its 2016 Christmas theme – GetGifted. Cupid explained that in addition to the 20 weekly winners who were all granted shopping spree opportunities, thousands of other Vincentians won cash and other prizes valued at over $150,000 throughout the life of the Christmas campaign, which was launched on November 25.
Meanwhile, the marketing manager said while a significant portion of the Christmas campaign has come to an end, customers – both prepaid and postpaid – still have an opportunity to win $10,000 cash in the text to win component of the promotion. Cupid explained that customers have until December 31 to text "Get Gifted" to 7171 to participate and for their chance to be ranked number 1. She said with the New Year just a few days away her marketing team is already busy conceptualizing plans to reward and give back to even more Digicel customers and communities across SVG in very significant and tangible ways.