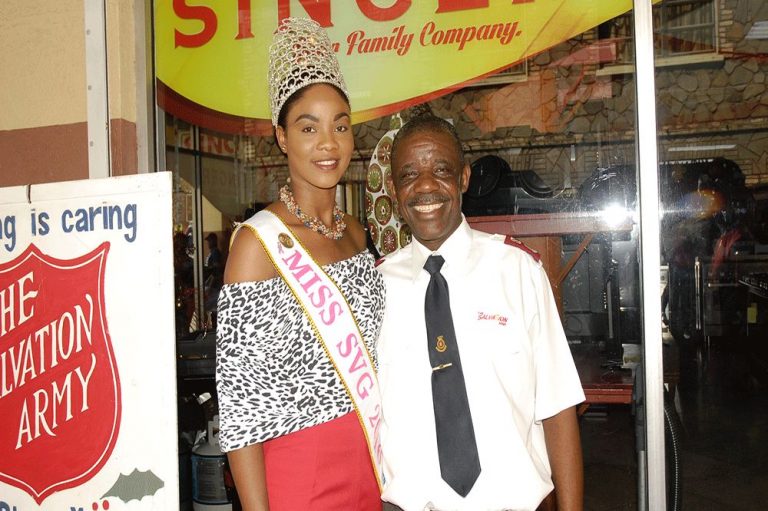 Miss SVG assists Salvation Army
Many persons in one way or another use the Christmas season to either bring joy to the disadvantaged, relief to disaster hit areas, or just enjoy the atmosphere.{{more}}
Last week, while many persons were bustling to and fro on shopping sprees, at least one person took the opportunity to assist a needy cause.
Nikianna Williams, Miss St Vincent and the Grenadines 2016, decided to assist The Salvation Army in their fund-raising efforts near Singer's showroom.
The reigning Carnival Queen said that "It was something I have always wanted to do, and had mentioned it to my management team REMMA and Ms Peters made it happen."
According to Williams, "I believe that as human beings, one of our most important duties is to help. I have always been passionate about eliminating hunger here in SVG and I saw The Salvation Army Christmas Kettle programme as a perfect way to assist in helping those in need. It was a great experience and I encourage anyone who is also passionate about helping the less fortunate to do so by reaching out to the volunteers at The Salvation Army."
Director of REMMA Management Renitta Peters indicated that she was grateful to spearhead the opportunity to work along with The Salvation Army and Nikianna Williams in ensuring that Vincentians give to those in need.
"I am hoping that next year more public figures in St Vincent and the Grenadines can participate in The Salvation Army Kettle programme. We have to do our bit in helping others and The Salvation Army efforts at helping others need our help," she said. "If we respect the spirit of helping, of giving, that we are just as responsible for each other as we are for ourselves, then those of us who are better placed to make a difference will each do our bit."
Major Pierre Antoine of The Salvation Army was quite pleased with the efforts of the reigning Carnival Queen, as it brought a new dimension to their fund-raising efforts.
(Contributed by Robertson Henry)