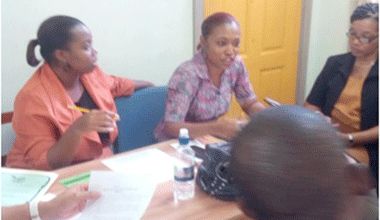 Accreditation Unit, NAB boosted by two days of training
The services of the National Accreditation Board (NAB) and the Accreditation Unit (AU)
in the Ministry of Education are expected to be greatly enhanced after a two-day training session, which took place on December 6 and 7 at the Curriculum Unit.{{more}}
Some 23 persons from five Public Sector departments/units were trained in the rudiments of evaluation of the services offered by the academic providers. The Public Sector departments/units represented were: the SVG Bureau of Stan­dards, the Police Accredi­tation Unit, the Public Sector Reform Unit, the St Vincent and the Grena­dines Community College and the Ministry of Education.
The training was facilitated by the executive director of the Accredi­tation Council of Trinidad and Tobago (ACTT), Michael Brad­shaw. The ACTT is the principal body in Trinidad and Tobago responsible for the quality assurance of post-secondary and tertiary level institutions, programmes and awards. He has accumulated over 38 years experience in education at all levels of the education system, as well as in training locally, regionally and internationally.
The ACTT's executive director advised the newly trained evaluators that the standards of the ACTT and the NAB were very similar. He reiterated the fact that having been trained, the evaluators were expected to do all within their power to make themselves available to serve when the NAB requires their services.
The AU/NAB will engage in a series of workshops early in 2017, geared towards reviewing the system of registration and accreditation of the services offered by academic providers. Funding for the capacity building exercise has been secured through the Caribbean Develop­ment Bank's Standby Facility.
The National Accredi­tation Board (NAB) of St Vincent and the Grena­dines has been established by the Further and Higher Education (Accredi­tation) Act No. 35 of 2006. The NAB is empowered by the Act to register and accredit tertiary level institutions and their programmes. The Accreditation Unit, which facilitates the services of the NAB, is managed by senior education officer Descima Hamilton.