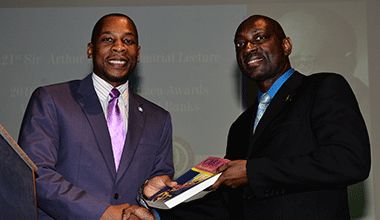 SVGCC receives award from ECCB in memory of St Lucian economist
The St Vincent and the Grenadines Community College (SVGCC) has received the eighth annual Sir Arthur Lewis Memorial Book award from the East Caribbean Central Bank (ECCB).{{more}}
This year marks the 8th year that the ECCB has been honouring the memory of the renowned St Lucian economist and 1979 Nobel Laureate by presenting to a state college in one of the eight ECCB member states, a book award in his name, on a rotating basis.
The turn of the SVGCC came on November 9, 2016 at the ECCB headquarters in St Kitts and Nevis. The award, valued at EC$2,700, will bring 16 books, volume sets and collections to the SVGCC library. This includes the threevolume set of Sir Arthur Lewis' collected papers 1941-1988 by Dr Patrick Emmanuel.
Director of the SVGCC Nigel Scott attended the award ceremony and collected the award on behalf of the SVGCC.