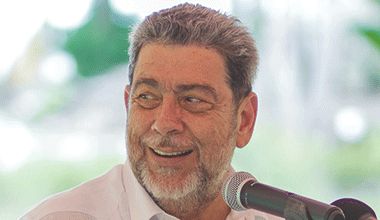 Firefly Villas Bequia celebrates ground breaking
An official ceremony to mark the ground breaking of Firefly Villas, an exclusive collection of new beachfront residences on the island of Bequia in the Grenadines, took place on Tuesday, November 8, 2016.{{more}}
The ground breaking ceremony, which officially marks the start of construction of residences, was overseen and officiated by Dr Ralph Gonsalves, the Prime Minister of St Vincent and the Grenadines (SVG).
The ceremony was attended by approximately 45 local and international guests, including the Prime Minister and the chair and CEO of Invest SVG. The Prime Minister welcomed the project enthusiastically and initiated construction using a JCB excavator.
Set in an approximately 15-acre private enclave of a tropical plantation on the island of Bequia, which stretches from the spectacular beachfront to the lush interior, each of the residences will offer privacy and beautiful views across the beach, sea and plantation.
Firefly Villas Bequia is being developed by Bequia Development Ltd in association with Firefly Hotel Bequia and Firefly Hotel Mustique, a highly acclaimed pair of hotels. As a result, buyers will enjoy an unrivalled package of carefree villa ownership benefits delivered by the hotels.
The benefits are unique on the island of Bequia and include an attractive Founders Package for the first few buyers, year-round villa maintenance and in-villa hotel services, a villa rental programme offering owners the opportunity to generate income from their villas when not in personal use, as well as use of all amenities and discounted rates at both Firefly Hotel Bequia and Firefly Hotel Mustique for family and friends.
Designed by Swedish architect Olle Rex, who has decades of international luxury residential and resort design experience, the villas are priced from USD$630,000. Villas will feature from
1,600 sq ft of living space, including up to six bedrooms, contemporary open plan interiors, private terraces, private pools and outstanding views of the sea or lush green surroundings.
Speaking at the ceremony, John Bowers, representing Bequia Development Ltd, commented:
"St Vincent and the Grenadines is a fantastic location to invest in, not just with the mind, but also with the heart.
"St Vincent and the Grenadines offers the opportunity to invest while enjoying a relaxing and rewarding way of life, something that, through this project, will be made available to investors from abroad, while providing local employment, stimulating the local economy, and generating additional revenue for the government," he added.
Located in the idyllic Grenadines island chain just south of St Vincent, the seven square mile island of Bequia has a lower profile than many other Caribbean islands, but is treasured for its pristine white sand beaches, lush green interior, crystal clear turquoise sea that offers unrivalled diving and snorkelling and unhurried, tranquil pace of life.