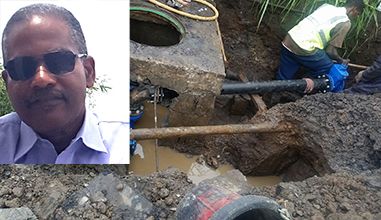 CWSA main pipeline damaged by collapse of Argyle road
The Central Water and Sewerage Authority (CWSA) whose major intakes and pipelines are all located deep in the mountains, suffered widespread blockages and pipeline dislocation from landslides, with 10 of its 11 water systems being affected last week during the passage of a trough system across the island.{{more}}
Although the CWSA has achieved restoration of approximately 85 per cent of the systems that were damaged during the trough system, the Jennings source, which was the only source sustaining minimal direct damage from the trough system, suffered major damage to its transmission main pipeline last Friday, when the highway section at the Argyle bypass road collapsed, affecting the supply to about 20 per cent of the population and areas between Argyle and Calliaqua.
In a release issued yesterday, general manager of the CWSA Garth Saunders said the CWSA's engineers are presently engaged in installing a bypass pipeline around the Argyle area in order to supply residents in the Stubbs, Diamond, Brighton Belevedere, Prospect, Ratho Mill, Harmony Hall and Choppins.
This temporary bypass is expected to be completed within three days and will be used until the Ministry of Transport and Works finalizes a more stable roadway route at Argyle.
Giving a recap of the systems that were damaged during the passage of the trough system, Saunders said at the Hermitage system at North Leeward, heavy siltation and repeated intake blockages from heavy flowing muddy rivers shut down the supply and rendered it inoperable for two days, while the CWSA teams cleared blockages and restored the system.
The Layou system spring source, which is normally free of siltation, was contaminated with surface water run-off and blockages and had to be shut down and was restored within one day.
The major Dalaway system, which supplies some 40 per cent of the population from South Leeward to Calliaqua, suffered major landslide damage to its transmission main that saw supply being shut down for repairs over a 24-hour period, with the CWSA teams completing repair work at midnight on Wednesday, November 9.
The Majorca and Montreal systems also suffered transmission main damage, due to several landslides and although the Montreal system was restored within 36-hours, complete restoration of the Majorca system was only achieved at midnight on Saturday, November 12.
Residents on that system, from Kingstown through West St George, had their supply disrupted for a total of three days.
The four sources in the North Windward area Perseverance, Sandy Bay, Owia and Fancy and the Mamoon source in Mt St Andrew, all suffered from extensive blockages from boulders and muddy water and were cleaned and restored within 36 hours.
He added "In the meantime the CWSA continues with the full restoration of all affected systems, now estimated at 85 per cent, by balancing pressures and flows in all areas. During the next one-week period, affected communities can expected to experience short periodic outages, as the systems revert back to normal."