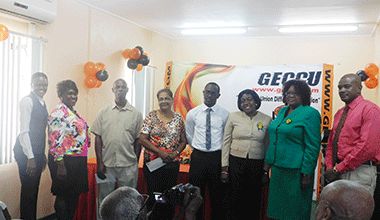 Three more students benefit from GECCU bursaries
Shadique Gill, a student of the Monroe College, as well as Kim Joshua and Daniella Lewis, both students at the University of the West Indies, St Augustine, received bursaries from the General Employees Cooperative Credit Union (GECCU) last week.{{more}}
Speaking at the handing over ceremony on October 19, president of GECCU Kelvin Pompey stated that the bursary programme complements their other education initiatives, such as 'Learn while you earn', and their scholarship programmes.
Pompey stated that GECCU also ensures that money is available for technology, so that students can have the necessary devices they need to facilitate their learning.
"Even while you earn or even persons who are going away, you can also come get your loan to purchase your laptops and your smartphone… and whatever devices you are going to use to facilitate the learning process," he said.
The president said he is a firm believer that education is one of the most valuable assets that an individual can possess.
"It is not just limited to an individual level, because at the level of GECCU, at the level of families, at the level of the country, we all need to ensure that we have sound education," he stated.
And, with education being an asset, the credit union president noted that this has what he calls 'balance sheet implications.'
"We all owe and we all own. And, at the end of the day what a sound education does is to make you able to position yourself to be able to work, to be productive and essentially to develop yourself and to give back to society and community," he explained.
Additionally, he noted that the investment by GECCU is also an investment in their balance sheet.
"Our students are going to go away, they are going to learn, they are going to develop themselves, they are going to get good paying jobs and of course they are going to come back and borrow loans from GECCU. Our balance essentially is improved as a consequence."
He challenged the bursary recipients to give back to their community in whatever way possible.
Senior education officer Kay Martin-Jack stated that the handing over of bursaries is just another demonstration of one of the credit union's philosophies of 'people helping people'.
"In the last three years they have awarded nine bursaries to their members here in St Vincent and the Grenadines, enabling the next generation of leaders to achieve their dream of tertiary education," she said.
Martin-Jack said the bursary recipients could express their gratitude symbolically by excelling in their studies and giving back to the citizens of the country.
"The Ministry of Education and GECCU are counting on your research, innovation and enterprise, so that we are able to continue this cycle of giving and providing for a next generation of deserving members and Vincentians on a whole," she stated. (CM)