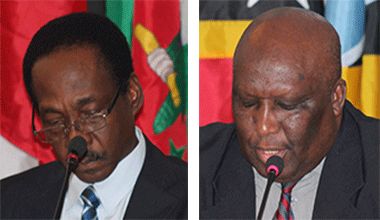 OECS to revamp education system to fill skills gap
It is said that in the near future, the job industry will be primarily skills based and technology driven and if this is the case, the Organization of Eastern Caribbean States (OECS) must look at revamping the education system. Also, there is a high level of unemployment in the OECS, yet there is a shortage of skilled workers in a number of professions.{{more}}
Those points were supported by Grenada's Minister of Education Anthony Boatswain, who expressed his view last Wednesday, October 19, during an OECS Council of Education Ministers news conference at the Beachcombers Hotel at Villa.
Boatswain, who was in St Vincent and the Grenadines (SVG) for the Second Meeting of the OECS Council of Education Ministers, said that in the effort to alleviate joblessness, heavy focus must be placed on technical and vocational education and science and technology.
"I am concerned, notwithstanding the fact that we have produced excellent citizens, but I believe that the education system in the region needs to be more attuned to the development realities of our various countries," said Boatswain last week.
He stressed that in many of the OECS countries, unemployment among young people is high (in Grenada's case as high as 40 per cent), but at the same time there are critical skills shortages in certain areas, something referred to as the skills gap.
"It means, therefore, that in moving forward we have to seek a better alignment between the education system and the world of work," noted the education minister, who stressed also that greater emphasis should be placed on technical vocational education and the teaching of Information Communication Technology (ICT).
Stressing that he is not downgrading the importance of academic education, Boatswain, however, said the OECS region has to promote to a higher level and prominence the role of technical and vocational education training, in our effort to satisfy the skills gap.
"In addition, we have to look at the whole issue of promoting greater entrepreneurial spirit among young people, as too many graduates come out of school looking to find a job, instead of creating a job and becoming entrepreneurs", noted Boatswain, who is of the opinion that this is something that has been lacking in the region for some time.
"….Maybe this is because of our colonial heritage, whereby we focus mainly on consumerism and not production," noted the minister, who stressed that we have an abundance of natural land based and sea based resources but we still have an extremely high food import bill.
He said that in an effort to move forward, we have to focus more on creating that environment where our people can become more focussed on production and not consumption.
"That is why I feel we need a realignment of the education system, with greater emphasis placed on those areas," he said.
Also speaking at last week's forum was local Minister of Education St Clair Jimmy Prince.
Prince, while highlighting some of the main policy issues which emanated from the second meeting of Ministers of Education, said that the meeting was attended by eight ministers of education, in addition to a number of educational developmental partners who made submissions.
These partners included the University of West Indies (UWI), UNICEF and UNESCO.
Recommendations coming out of the meeting included the development of a regional behaviour management policy, the proposed adoption of a regional approach seeking to address the issue of student drop-out and the establishment of a regional minimum benchmark requirement for entry into the teaching service across the region.
Also discussed was the possibility of a study to review existing pay scales for teachers, with a view to developing a harmonized pay scale, while the educators also spoke about establishing a technical working group to support a working relationship with Martinique, a new member of the OECS.
Countries represented at the meeting included Montserrat, Antigua and Barbuda, St Kitts/Nevis, Dominica and St Lucia.
The Second Meeting of the OECS Council of Education Ministers opened here at the Prime Minister's Residence at Old Montrose on October 17 and was hosted by the Ministry of Education, under the theme, "OECS Education – Facilitating Free Movement".(LC)