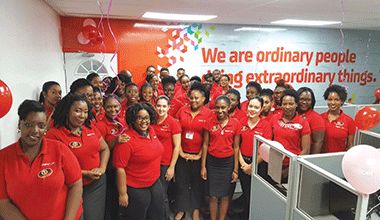 Digicel SVG Call Centre celebrates first anniversary
On October 5 2015, over 50 new jobs were created here in St Vincent and the Grenadines (SVG) when Digicel SVG opened the doors to its Call Centre.{{more}}
Manager at the Digicel SVG Call Centre Terrell Joseph, who has been with the Call Centre since inception, said that she feels extremely honoured to be a part of such a project, which has not only created employment for many young Vincentian adults, but a project that continues to play a pivotal role in the professional development of Vincentians. She said over the past year, she has been able to successfully foster and improve on key relationships with thousands of Digicel customers and continues to see staff strategically craft their careers within the Digicel group.
Joseph said the SVG Call Centre on a daily basis offers support to the lower OECS, specifically: St Lucia, Dominica, Grenada and SVG and also assists with overflow calls from countries such as Barbados, British Virgin Islands and Anguilla. She added that the local outbound team is responsible for executing surveys, making credit, collection and welcome calls for a various markets such as Caymans, Bermuda, St Kitts, St Lucia, Barbados, BVI, Turks and Caicos and SVG.
The Call Centre manager further explained that on any given month, the Vincentian inbound team receives approximately 5,500 to 6,000 incoming calls, while the outbound team dial out on average 21,000 calls between the hours of 8 a.m. and 5 p.m., Monday through Saturday.
Joseph said the Digicel SVG Call Centre, one of a total of six Digicel Call Centres across the region, will continue to provide quality customer service to all Digicel customers, as well as all of Digicel's external business clients. She explains that the coming year will see her and her team strategically identifying revenue opportunities both locally and internationally to help expand Digicel's telesales operations.
Meanwhile, two employees at the Call Centre — Zaniesha Charles and Brezel Burgin – said they are extremely happy to be onboard marking the first anniversary of the Call Centre. The duo explained that the unity among Digicel staff continues to drive them and the way in which members of staff band together to launch a campaign or execute community outreach projects is among the many reasons why they intend to be a part of the Digicel family for the long haul.
Among the activities to mark the Call Centre's first anniversary is a luncheon for all 53 members of staff, which will also see 15 agents being recognized for their work and accomplishments over the past year.