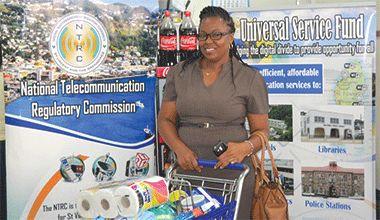 Moses wins NTRC Christmas Giveaway raffle
The National Telecommunications Regulatory Commission (NTRC) shared some Christmas cheer last December and as a result, Debon Moses won herself an EC$500 shopping spree at Bonadie Supermarket No. 2.
Persons were entered in the NTRC's Christmas Giveaway raffle when they 'Liked' the organization's Facebook page. By liking the page, persons were given the opportunity to fill out an entry form, while they were also encouraged to share the page to get additional entries. The winner was randomly chosen during a draw which was held last week.
"I feel happy about my winning and the items would come in handy for the New Year. I would also like to encourage others to like the NTRC's Facebook page, so they can be aware of the many things NTRC has to offer," said Moses when she found out she had won.
Moses is allowed to spend the EC$500 on anything she wants in the supermarket.