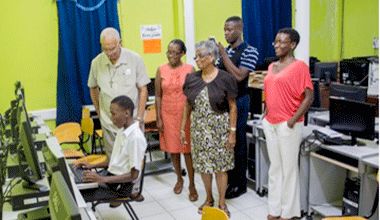 Caribbean Event Family donates to Bishop's College
The Caribbean Event Family recently donated computers to the Bishop's College Kingstown.
The Caribbean Event Family is a non-profit organization, which has been actively involved in giving back to the community through the raising of funds to aid its charitable objectives. They are driven by the belief that "the brotherhood of man transcends the sovereignty of nations and that service to humanity is the best work of life."(Jaycees Creed)
"We at Bishop's College Kingstown are very thankful to Caribbean Event Family. This donation of computers will strengthen our delivery of ICT in the classroom, and also for use in our library. We are pleased to be one of the first recipients of refurbished computers from the Caribbean Event Family, as it continues with its projects in giving back to the Caribbean community," a release said.