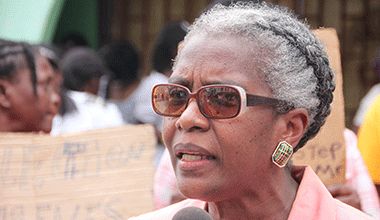 As long as ULP governs, protest will continue – King
As long as the Unity Labour Party (ULP) remains in power, political activist Luzette King and members of her group will continue their protest actions.
"Get it straight from us, for as long as the Unity Labour Party holds on to power illegally, we will be here," King stated, while addressing a press conference outside the Electoral Office on Bay Street, Wednesday.
"Don't give any notice to the suggestion that by March we will be finished; we are going to be here until we get free and fair elections," she asserted.
"We have been protesting since the December 9th elections because we believe they were stolen and this has resulted in 8-7 against the New Democratic Party. Therefore, we contend that the people of St Vincent and the Grenadines have been denied the chance of a fresh start with the Honourable Arnhim Eustace as prime minister. Instead the nation is burdened with an illegal Unity Labour Party as government," she alleged.
Furthermore, King declared that up to this point, the ULP cannot prove to Vincentians that they did not in fact steal the elections.
"Why are we not going to allow a stolen election to be called legitimate? The ULP cannot prove to Vincentians and the world beyond any doubt that they did not steal the election; let them show that they did not commit corrupt actions using millions of tax dollars to buy votes throughout these elections and worse, violating fundamental election rules on the day of the elections."
King stated that acts of violation usually include "some or all of the following, and the ULP have been found committing some of these in varying degrees: intimidation, vote buying, misinformation, misleading or confusing ballot papers, ballot stuffing, mis-recording of votes, electorate manipulation, manipulation of demography, disenfranchisement, division of opposition support, misuse of proxy votes, destruction or invalidation of ballots, tampering with electronic voting apparatus and voter impersonation."
King additionally noted "a sitting government can use its position of authority to influence the outcome of an election before, during and after polling day and this is what happened while the Unity Labour Party was in government."
The political activist, who normally resides in Washington DC, has been leading protests outside the office of the supervisor of elections since December 12, 2015. She spoke Wednesday in front of a group of about 30 people, many of whom were clad in yellow T-shirts with symbols of the New Democratic Party.
King told the media that while there were supporters of the NDP amongst the protestors, they were not trying to represent the NDP.
"There are members of the New Democratic Party here, but what is happening to us goes beyond political party, and so many of us, while we support a New Democratic Party, we not trying to represent them so to speak," she stated.
The political activist also said that the recent refusal by supervisor of elections Sylvia Findlay to answer "a straightforward question" makes the group more resolute to continue their protests until there are fresh elections, that are free and fair.
Earlier this week, an online publication reported that Findlay had declined to say whether it would be possible to determine who a particular person voted for by examining the counterfoils and ballot papers.
"We are not leaving! Tell the world we are not leaving until we get free and fair elections, and that means the complete removal of the illegal group of people that they have there and let's get somebody from outside to oversee our elections, especially, especially in the Central Leeward; that's the bottom line for us. It would be good if we had an entire fresh election," King said.
The political activist also alleged that she and other protestors had been victims of police brutality.
"Since the December 9th, 2015 election we have also seen a heightening of police brutality, and the consequent denial of democratic rights and freedoms of many Vincentians who have gathered to protest peacefully. We have seen the arrest of Douglas DeFreitas, Shabazz George, Ben Exeter and myself. Interestingly Ben Exeter contested the elections as an NDP candidate in the Central Leeward constituency and is currently challenging in court the results of these actions," she said.
"Further, there have been references made to the [Public Order Act] when discussing activities and they relate to our protesting elections and other matters arising from them. This Act does not apply to cases where Vincentians are demonstrating peacefully. In fact, this is an attempt to supersede our Constitution."
The ULP was returned to government following the December 9, 2015 general elections, having won eight of the 15 seats and 52 per cent of the popular vote. The main opposition NDP won the other seven seats and 47 per cent of the vote.
The general elections were declared free and fair by international observers from the Organization of American States, the Commonwealth and CARICOM.
On December 31, 2015, the NDP filed election petitions challenging the results in the Central Leeward and North Windward constituencies.(CM)