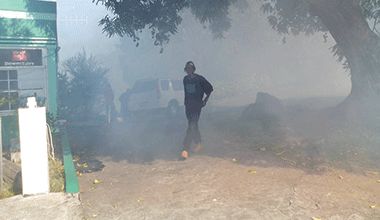 Arson suspected in fire at WE FM compound
With the recent fires that are suspected of having been intentionally set across the country, could a blaze that occurred earlier this week at the compound of WE FM be linked to this?
This is the speculation of some after a fire broke out last Tuesday, January 12, at around 9 a.m, in a vacant plot of land on the southern side of the bank that the radio station is located on.
Describing it as a "pretty big fire", a member of management at WE FM told SEARCHLIGHT that it is highly likely that the blaze was intentionally lit, as opposed to being a spontaneous bush fire that sometimes happens in the dry season, which has not yet commenced.
"I don't expect a fire to light itself around this time of year," he pointed out.
"Usually, when we have a fire over here it's not like it combusts itself – it's usually somebody who lights it. It's always from the same area; that should say one thing… it's probably the same person who always lights the fire."
Although the fire did not spread to the radio station itself nor any neighbouring homes, the buildings sustained some smoke damage and a pile-up of ash.
Recalling the incident, the member of management said that due to windy conditions, firefighters were limited in the way in which they tackled the fire, and had to let it burn itself out.
"They had to just leave it, because there was a lot of wind; they advised everyone to just move away from the area. When it got too close to the neighbour's house… they had to spray around his property," he explained.
"It was [initially] just burning in open land – it wasn't close to anyone's property. But when it got close to property, they had a small [fire] truck because the large fire truck couldn't get over here."
A second member of the WE FM management team also spoke with SEARCHLIGHT, saying after reviewing CCTV footage around the property, he knows that the fire was set deliberately.
However, the first member of management with whom we spoke expressed his belief that the fire was not lit by anyone who has a grievance with the radio station or its owners.
"I believe it's an idle person. I'm actually pretty sure it's an idle person. I don't think it has anything to do with revenge or anything along that line… It (the fire) actually started very far away from the house, but whoever lit the fire knew exactly what they were doing."
Inspector Benjamin of the Fire Department of the Royal St Vincent and the Grenadines Police Force said although there are no leads at the moment, the matter is being investigated and treated as suspected arson.(JSV)